Legislation
In August 2010, the Offshore Wind Economic Development Act (OWEDA) was signed into law. The Act advised the Board of Public Utilities to establish a program for Offshore Wind Renewable Energy Certificates (ORECs) to incentivize the development of offshore wind facilities.

January 31st, 2018, Governor Phil Murphy Signed Executive Order #8 which directs all New Jersey State Agencies with responsibilities under the OWEDA to fully implement the act in order to meet a goal of obtaining 3,500 MW from offshore wind by the year 2030.

The Executive Order also set forth provisions to:
Develop an Offshore Wind Strategic Plan
Implement OWEDA's OREC program
Procure the necessary resources and expertise including an offshore wind economic consultant
Issue a solicitation for offshore wind projects for the generation of 1,100 MW
Initiate a rule making process to establish the OREC Funding Mechanism
Initiate discussion with sister states in the Northeast and Mid-Atlantic Region to explore the potential benefits of regional collaboration on offshore wind and other opportunities to combat climate change
On November 19, 2019 Governor Murphy signed Executive Order #92. This order effectively raised New Jersey's offshore wind goal from 3,500 megawatts by 2030 to 7,500 megawatts by 2035 - more than double the initial goal. This new goal will deliver clean, renewable energy generation needed to meet the State's goals of 50% renewable energy by 2030 and 100% clean energy by 2050. A schedule for offshore wind solicitations through 2028 has been developed and can be found here.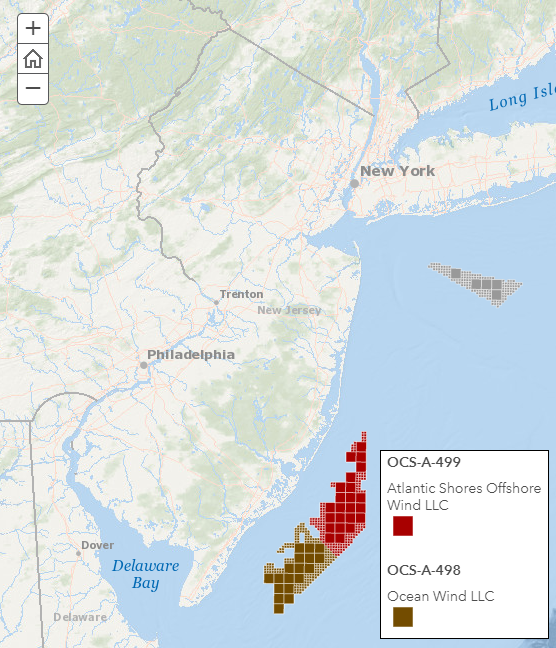 Existing commercial wind energy leases offshore of New Jersey, visit BOEM to learn more