NJ's Clean Energy Picture
New Jersey is advancing and diversifying its clean energy portfolio through leadership and strong policy. The State's clean energy picture has evolved over time.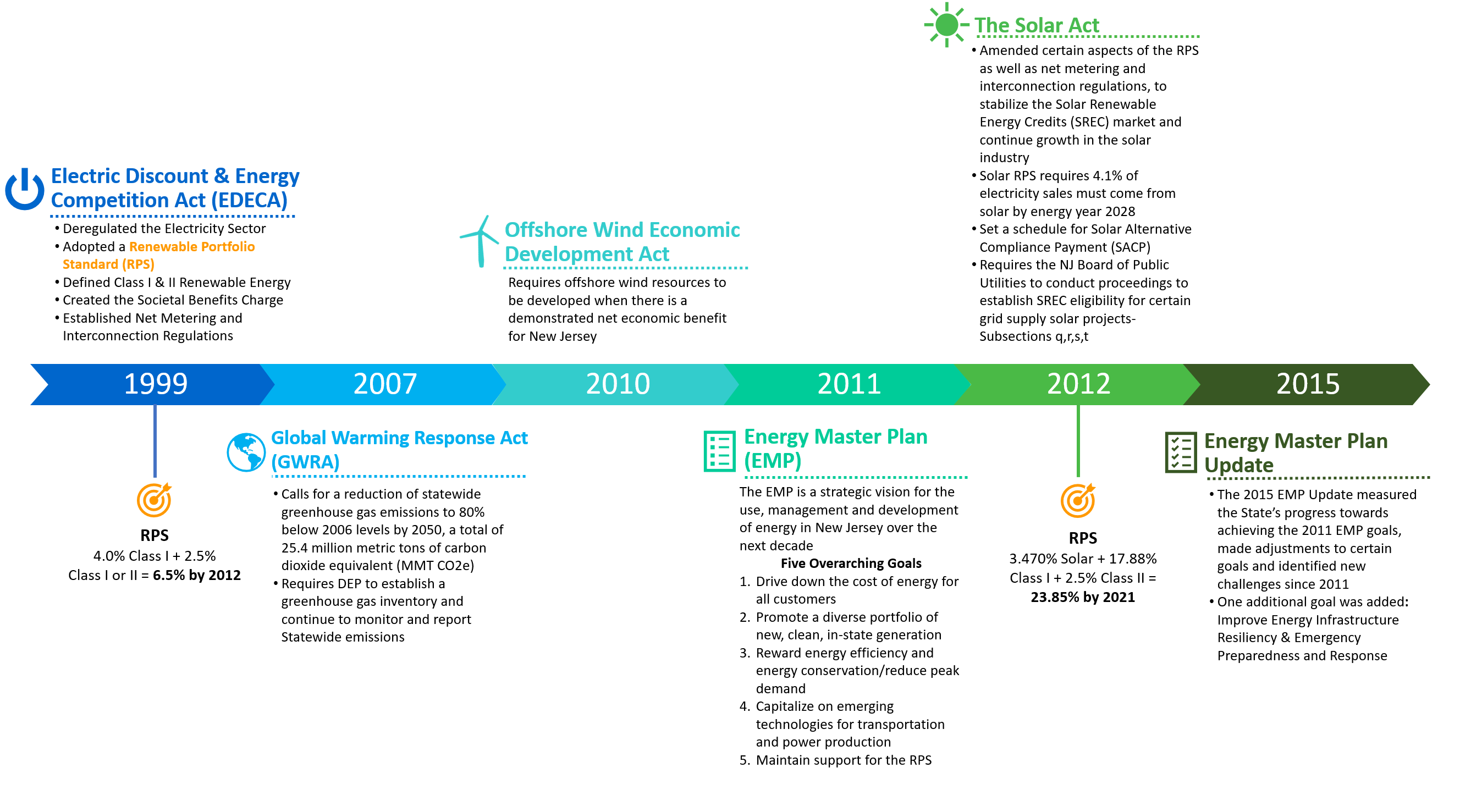 Global Warming Response Act
The Global Warming Response Act (GWRA) at N.J.S.A. 26:2C-37, calls for a reduction of Statewide greenhouse gas (GHG) emissions to 80 % below 2006 levels by 2050, a total of 25.4 million metric tons of carbon dioxide equivalent (MMTCO2e). According to the latest GHG emissions estimate (2015), Statewide releases were a little over 100 MMT CO2e, with close to 90 % coming from the combustion of fossil fuels to satisfy energy demand and transportation.
New Jersey Energy Master Plan
The New Jersey Energy Master Plan (EMP), is the strategic vision for the use, management and development of energy resources in New Jersey over the next decade. Adopted in 2011, the Plan has 5 overarching goals:
Drive down the cost of energy for all customers.
Promote a diverse portfolio of new, clean in-State generation.
Reward energy efficiency and energy conservation, and reduce peak demand.
Capitalize on emerging technologies for transportation and power.
Maintain support for the renewable energy portfolio standard of 23.85 % of energy from renewable sources by 2021.
Implementation of these goals will build on New Jersey's already significant progress with respect to clean energy, renewables and energy efficiency. Notably, this State EMP is the first to address the importance of energy use by the transportation sector.
In 2015, the EMP was updated to include additional measures toward achieving the State's goals to address new challenges and the shifting energy needs of a thriving and prosperous state. In response to the severe impacts of Hurricane Irene in 2011, the 2011 October snowstorm in 2011, and Superstorm Sandy in 2012, one additional goal was added: Improve Energy Infrastructure Resiliency & Emergency Preparedness and Response.
Renewable Portfolio Standard
New Jersey's Renewable Portfolio Standard (RPS) is one of the most aggressive in the United States, requiring that each electricity supplier serving retail customers in the State to procure 23.85 % of the electricity it sells in New Jersey from qualified renewable energy resources by 2021. New Jersey established the RPS to drive the market deployment of new, clean energy technologies, recognizing that expansion of renewable energy generation would provide significant economic development and environmental benefits, thereby helping to satisfy New Jersey's air quality and greenhouse gas reduction goals. Included in New Jersey's overall RPS is a requirement for 4.1 % of electricity sales by 2028 to be from qualifying solar electric generation facilities, pursuant to the Solar Act of 2012 . This provision has helped the solar industry thrive, making New Jersey one of the top States in the US for installed capacity.
Electricity Generation in New Jersey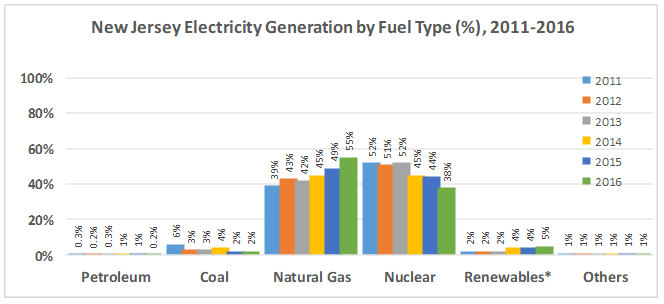 New Jersey is a leader among the States in reducing emissions from the electric power sector. From 2011 to 2016, New Jersey achieved a 26 % reduction in CO2 emissions from the combustion of fossil fuel for electricity generation, while decreasing its reliance on coal by almost 70 %. New Jersey's in-State electricity generation is among the cleanest in the nation, with almost 40% from nuclear. New Jersey's existing fossil fuel generation sector is already well below USEPA's proposed limits for new fossil power plants, which requires an emission rate of 1,000 lb CO2/MWh for natural gas fired facilities and 1,100 lb CO2/MWh for coal fired facilities. New Jersey's new natural gas combined cycle generation units emit 778 lb/CO2 per MWh, on average.
Why Renewables?
Our quality of life and economy depend on the availability of large amounts of energy, most of which comes from the combustion of fossil fuels. Fossil fuels include coal, natural gas, and a variety of liquid fuels, such as gasoline, diesel fuel, and heating oil, that are derived from petroleum. We use considerable amounts of gasoline and diesel fuel for transportation; we use heating oil and natural gas for heating our buildings, and we use electricity in a variety of ways, including manufacturing, heating and cooling, lighting, and in communications. A significant portion of electricity is generated by the combustion of fossil fuels, mostly natural gas and coal. Fossil fuels are not renewable, which means that at some point they will become depleted and increasingly costly. In addition, combustion of fossil fuels releases air pollutants, including ozone precursors such as nitrogen oxides (NOx) and volatile organic compounds (VOCs); acid rain precursors including NOx and sulfur dioxide (SO2); various toxins such as mercury; and carbon dioxide, a major greenhouse gas (GHG).
Unlike fossil fuel combustion, renewable energy sources provide energy services without depleting fossil fuel reserves and with much lower overall emissions resulting in positive environmental and public health benefits. Promoting a diverse portfolio of new clean in-State generation will lessen dependence on imported oil, protect the State's environment, help grow the State's economy, and lower energy costs.