Electricity generated from hydrokinetic devices fall into the category of Class I renewables as defined by the New Jersey Board of Public Utilities (NJBPU) and can contribute to NJ's renewable portfolio standards (RPS) goal.
BCCCE continues to remain engaged in the activities of anticipated future installations of hydrokinetic devices (small hydro ≤ 3MW, wave and tidal) and will collaborate to advance projects that comply with NJDEP regulatory standards and have no discernable negative impacts on the environment, ecosystem habitats, and human health in New Jersey.
For more information, visit:
DOE Water Power Technologies Office
US EIA Hydropower Explained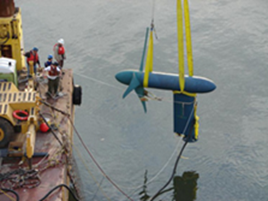 Underwater turbine being installed in the East River.