Dog Training, Exercising & Hunting
on Wildlife Management Areas
The Division of Fish and Wildlife supports the proper use of dogs while hunting for designated game species. Thirteen Dog Training Areas areas are maintained on 12 Wildlife Management Areas for public use.
A person may exercise or train dogs only in designated dog training areas on the following select WMAs from May 1 to August 31 inclusive:
MAPS
Clicking on links above will open a map (pdf) of the dog training area in a new tab or window.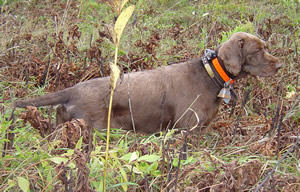 All dogs must be properly licensed. A person may exercise or train dogs on any WMA from September 1 to April 30.
Note that no person may release quail for dog training purposes on the following WMAs: Buckshutem, Dix, Egg Island, Fortescue, Millville (Bevans), Nantuxent, New Sweden and Stafford Forge.
Additional regulations (see NJAC 7:25-2:20 below) involve the release of game birds for training, the use of pigeons, the use of firearms, frozen game birds, the use of call back pens and the release of foxes, raccoons, rabbits and hares.
Please note that state WMAs and facilities are "carry in - carry out" and trash receptacles are not provided; please plan accordingly to not leave any trash or recyclables behind.
NEW JERSEY ADMINISTRATIVE CODE: 7:25-2:20 - Dog Training Rules (pdf, 28kb)