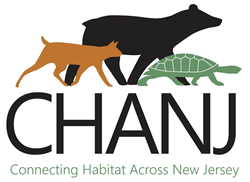 Tools of CHANJ
Explore our statewide CHANJ Mapping and Guidance Document, as well as other resources to guide your habitat connectivity efforts.
Projects & Partners
A growing reel of accomplishments and ongoing projects related to CHANJ.
Featured Species
Profiles of animals which depend on a connected landscape.
Making Headlines
"Wild Crossings" episode on PBS EcoSense for Living - PBS, 4/26/20
Tunnel vision: Helping wildlife cross the road - centraljersey.com, 2/29/20
DEP Launches Connecting Habitat Across New Jersey (CHANJ) Project to Link Lands for Wildlife Movement (DEP News Release, 5/7/19)
Salamandars Crossing: This Way To the Vernal Pool! - JSTOR Daily, 4/9/19
CHANJ Seeks to Get Nature Together Again - The Sandpaper.net, 11/28/18
Watch for Turtles Crossing Roadways - DEP News Release, 6/19/18
New Underground Tunnel to Help Wildlife Cross Road - DEP News Release, 6/4/15
We'll Be There
Northeastern Transportation and Wildlife Conference, September 18-21, 2022, Atlantic City, NJ - Co-hosted by NJ Division of Fish and Wildlife and South Jersey Transportation Authority. CHANJ projects will be among the many featured talks, posters and field trips.
Related Efforts
With the World on Pause, Salamanders Own the Road - NY Times, 5/18/20
Retrofitting busy highways to let wildlife travel safely, too - Washington Post, 10/11/19
Wildlife corridors can mean life or death - The Hill, 8/16/19
How wildlife bridges over highways make animals—and people—safer - National Geographic, 4/16/19
This is why we need wildlife crossings - Mother Nature Network, 12/10/18

Whether they're small like a salamander or big and wide-roaming like a bear, animals need to be able to move through the landscape to find food, shelter, mates, and other resources. Without that ability to move, healthy populations simply will not persist over the long term. Here in New Jersey, wildlife are up against steady urbanization, a dense network of roads, and now a changing climate, all of which put the connectedness of our habitats and wildlife populations in jeopardy.


New Jersey at a Cross-roads

Right now, our state's final landscape is being decided. Urbanized land is already the dominant land use type – covering more than 30% of the state – and NJ is on track to reach build-out by the middle of this century (Hasse & Lathrop 2010). With more development come more roads, and busier roads, further fragmenting the habitats we have left and making it increasingly difficult for wildlife to find the resources they need to survive and thrive.

Fortunately, NJ is also a recognized leader in preserving open spaces for recreation, agriculture, and nature. Nearly one-third of the state's land mass is now in permanent preservation, thanks to steadfast public support and tremendous capital investments. In fact, NJ boasts a higher percentage of publicly-owned forest land than any other state east of the Mississippi (Widmann 2004). We must move quickly and purposefully to build on this strong foundation if we are to secure a legacy of healthy, connected ecosystems.

Time for CHANJ

Connecting Habitat Across New Jersey (CHANJ) is an effort to make our landscape and roadways more permeable for terrestrial wildlife by identifying key areas and actions needed to achieve habitat connectivity across the state. CHANJ offers two main products – statewide Mapping and a Guidance Document – to help prioritize land protection, inform habitat restoration and management, and guide mitigation of road barrier effects on wildlife and their habitats:




For more information about these products and for additional resources, visit

Tools of CHANJ

.