Skillful Angler Leader Board
Striped Bass Circle Hook Requirement Update
Tips For Fishing Like a Pro
NJ Outdoors Program
Although one of the smallest and most densely populated state in the nation, New Jersey offers endless fishing opportunities. From spring migrations of striped bass and American shad in the Delaware River to bayshores and the Atlantic coastline, there's something for all anglers. And progressive management and fish culture and stocking programs means a greater of variety of fish are available than ever before.
Waters in Wildlife Management Areas, in state parks and forests, in federal lands and county and municipal parks make fishing nearby for everyone. Many sites have been improved for access by wheelchair, and public boat ramps abound. For those who've never tried fishing, or have been away from the sport, two Free Fishing Days in June allow fishing without a license or trout stamp, and a license is never required for saltwater fishing.
Whether it's surf fishing from the beach, miles of native trout streams, lunker bass lakes or through the ice, New Jersey anglers have some of the widest varieties of fishing opportunities available anywhere. Get out and see why the fishing in New Jersey has never been better!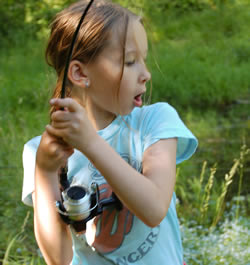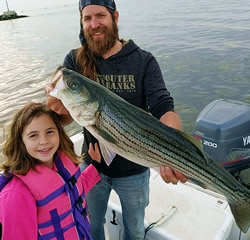 Take a kid fishing and catch the excitement!