HARMFUL ALGAL BLOOMS (HABs) INFORMATION:

Blue-green algae blooms (Cyanobacteria), which can be harmful to people and pets, has been confirmed in several waters throughout the state:
Van Saun Mill Bk (Bergen Co.)
Pemberton Lake (Burlington Co.)
Spruce Run Reservoir (Hunterdon Co.)
Curlis Lake (Mercer Co.)
Rosedale Lake (Mercer Co.)
Budd Lake (Morris Co.)
Alloway Lake (Salem Co.)
Branta Pond (Somerset Environmental Education Pond) (Somerset Co.)

Caution should be used to minimize contact with water in affected ponds/lakes, and all fish caught in affected waterbodies should not be consumed.
For a listing of affected waters visit the CyanoHABs Events page and use the HAB Interactive Mapping and Communication System.
For information on HABs and to report suspected blooms visit the Bureau of Freshwater & Biological Monitoring website.
For more HAB information and to sign up for HAB-related news and updates visit the Harmful Algal Blooms (HABs) page.
It's never been better!!!
Although one of the smallest and most densely populated states in the nation, New Jersey offers endless fishing opportunities. From spring migrations of striped bass and American Shad in the Delaware River to miles of native trout streams, New Jersey anglers have some of the widest varieties of fishing opportunities available anywhere.
Through the Division's extensive stocking programs incredible opportunities exist not only for trout but for walleyes, hybrid striped bass and channel catfish as well. Muskellunge, northern pike and lake trout come in trophy proportions.
Great fishing opportunities await - so come find out why fishing in New Jersey has never been better!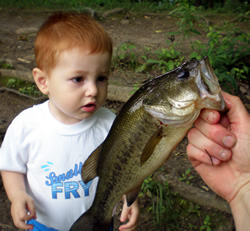 Introduce a youngster to fishing!