If You Can't Keep It, Save It!
Summer Flounder (Fluke) Information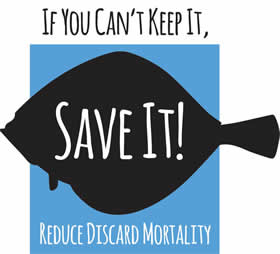 Summer flounder (fluke) are a valuable resource and anglers are requested to follow regulations and take care when releasing fish that are short or when a creel limit has been reached.
2022 SUMMER FLOUNDER REGULATIONS

WATER

SIZE

DAILY LIMIT

SEASON DATES

NJ Coastal Waters

18-inch minimum




---




17-inches to less than 18-inches

May 2 through September 27

Delaware Bay and Tributaries

17-inch minimum

3

May 2 through September 27

Island Beach State Park (shore fishing only)

16-inch minimum

2

May 2 through September 27
Flounder Fishing with Russ Alan and Al Ivany (DEP Podcast)
Reducing discard mortality is crucial. The Division of Fish and Wildlife encourages anglers to follow these techniques:
Plan ahead - Expect to release fish and have the necessary equipment to do so, including de-hookers and nets; more experienced anglers may also consider using a recompression tool, a device that allows fish to be returned to the water at a safer depth.

Use appropriate gear - Use gear suited to the size of the fish that you are trying to catch; 5/0 to 7/0 size hooks are recommended to successfully land bigger fish and reduce discards.

Handle fish carefully - Use knotless, rubberized landing nets and rubberized gloves to avoid removing the protective slime layer on fish and help ensure survival when placed back in the water.
Fishing with barbless hooks, or hooks where the barb is crimped, makes releasing a short fish easier and faster which reduces discard mortality. It does require keeping a taut line to not lose a fish, but fish can sometimes be released simply by letting the line go slack, ensuring the fish is unharmed to be caught again.
The following sites and videos provide information on reducing the mortality of released fish:
FishSmart...for the future of fishing
How to Use a Dehooking Tool (Florida Sea Grant YouTube Site)
It's a Short! Release That Summer Flounder Alive For the Next Angler (Feature Article)
Throw Back That Short Fish–Unharmed! (from 2009 Marine Digest, pdf, 130kb)
Best Practices: General Guidelines for Safely Releasing your Fish (FishSmart.org)
Best Practices for Safely Releasing Deep Caught Saltwater Fish (FishSmart.org)
Catch & Release Fishing (Univesrity of Florida/Florida Sea Grant)
Optimization of Hook Size in the N.J. Summer Flounder Hook and Line Fishery (pdf, 640kb)
Optimization of Gear Size and Post-Release Mortality Reduction in the N.J. Summer Flounder Hook and Line Fishery - NOAA/NMFS BREP Final Report (pdf, 3.2mb)
Release Mortality in Virginia's Recreational Fishery for Summer Flounder, "Paralichthys Dentatus" (Jersey Coast Anglers Assn.)