Become a HOFNOD Team Leader July 30-31 at the Pequest Trout Hatchery
The Hooked on Fishing - Not on Drugs (HOFNOD) program relies on volunteer team leaders to bring the program to the state's youth. Teams are typically formed and led by adult staff and volunteers of youth-centered community and/or faith-based organizations. Teams offer an ongoing or year-round youth fishing, conservation, and aquatic education program. Team leaders attend a 2-day training to prepare them for conducting the program.
Teams introduce youth to fishing and help them learn about their local waters and other natural resources while supporting positive outdoor recreation activities and life skills. The program is flexible enough to be tailored to fit most organizations. Team leaders are responsible for delivering the program to youth from beginning to end over the course of 22 or more sessions.
Participation in a HOFNOD Team Leader Training is required. Team Leaders agree to:
Manage and maintain all fishing gear, equipment and supplies;  
Submit a calendar of activities at the beginning of your program cycle;  
Collect and submit demographic data on participants, including a pre- and post-test survey; 
Provide photos and other documentation on your team's activities and outcomes 
Maintain a safe, healthy and drug/alcohol/tobacco-free space for youth participants. 
Organizations that participate in the program are eligible to receive additional professional development in conservation education and angling skills and in-kind support for program materials and supplies including subsidized educational field trips. Supplemental training can be requested for content like fly tying and kayaking.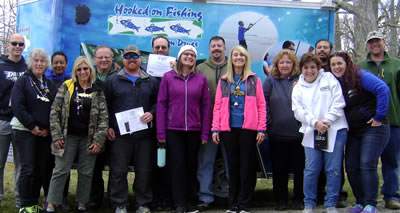 Participants at the Waretown Team Leader Training, April, 2018.
Click to enlarge