Please be aware that fishing for sharks is regulated by the State and federal regulations. Federal regulations prohibit targeting any prohibited species and anglers must release any prohibited shark immediately, without removing it from the water and in a manner that maximizes its chances of survival. For example, Sand Tiger Sharks are a prohibited species, therefore posing for pictures on the beach with this species or any other species on the prohibited list is a violation of federal regulations. Additional information on the regulations regarding these species can be found at:
www.fisheries.noaa.gov/topic/atlantic-highly-migratory-species
New Jersey's rich marine resources offer an outstanding variety of recreational opportunities for residents and visitors to the state. They also support an important commercial fishery and provide the basis for one of the state's most important industries - tourism. From blue claws to striped bass, from surf fishing to deep artificial reefs, the division's management of marine resources provides an incredible range of possibilities for enjoying our coastal areas.
Our marine resources provide something for anyone interested in saltwater fishing, clamming or crabbing. Stretching from Raritan Bay and Sandy Hook to Cape May and Delaware Bay, New Jersey's 83 miles of bayshores and 127 miles of Atlantic coastline provide unparalleled opportunities for enjoying our marine resources.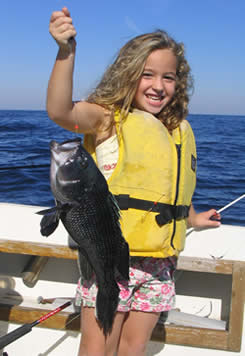 Artificial reefs
provide excellent fishing.
Click to enlarge