American Woodcock Migration Study December, 2019 Update
Small game hunting in New Jersey provides hours of recreation afield every hunting season. From abundant native populations of rabbit and squirrel to elusive ruffed grouse, there are ample opportunities for sportsmen and women to enjoy the pursuit of game.
Each year approximately 50,000 pheasants are stocked on 23 division Wildlife Management Areas (WMAs)and the Delaware Water Gap NRA and Ft. Dix, and 5,200 quail are released on two WMAs. Coyote and fox are perhaps the most challenging of the state's small game species. Though not nearly as popular as in past decades, trappers continue to take species such as raccoon, fox, opossum, mink, otter and beaver.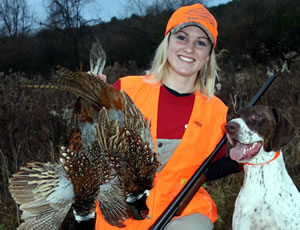 Photo by Tom Pagliaroli - click to enlarge