NJ Fish and Wildlife has partnered with the Conserve Wildlife Foundation of New Jersey (CWF) to enhance nesting habitat for northern diamondback terrapins within Great Bay Boulevard Wildlife Management Area in Ocean County. The area will be enhanced by adding sand to a former marina parking lot and planting the area with native plants to stabilize the soil and provide additional habitat to pollinators such as monarch butterflies. A split rail fence will be installed around the restoration area to prevent damage from vehicle traffic. The use of the restoration site by adult female terrapins will be monitored by CWF volunteers and biologists as part of their Great Bay Terrapin Project throughout the field season.

The creation of nesting habitat for female terrapins is critical to their long-term survival. As coastal areas are more frequently flooded over time, terrapins will lose many of their historic nesting areas. With very high levels of site fidelity and small home ranges, it is important to enhance habitat for them to nest. In addition, the creation of this site will drastically help improve the chances of the survival of young terrapins through direct monitoring and protection of nests by volunteers.

A portion of the funding for this project is being provided by Forked River Power LLC through a DEP Supplemental Environmental Project.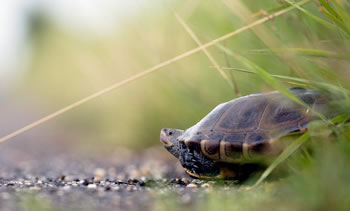 Every year, hundreds of diamondback terrapins risk their life crossing Great Bay Boulevard in search of suitable nesting habitat.
Click to enlarge