New Jersey Water Withdrawal, Use, Transfer and Discharge Summary 1990 to 1999 by NJDEP 11-Digit Hydrologic Unit Code (HUC11)
---
Abstract
This report summarizes data on water withdrawal, use, transfer and discharge in New Jersey from 1990 through 1999 for all of New Jersey's 151 11-Digit Hydrologic Unit Code (HUC11) drainage basins. The HUC11 delineations were developed by the United States Geological Survey (USGS) and modified by the New Jersey Department of Environmental Protection (NJDEP) to meet its Geographic Information Systems (GIS) mapping requirements. The NJDEPs HUC11s range in size from 3 to 349 square miles, and average about 60 square miles. HUC11s are aggregated together to form 20 Watershed Management Areas (WMA) and these are further aggregated to form 5 Water Regions (WR) (Figure). Withdrawals are defined as the volume of fresh water withdrawn from ground-water or surface-water sources. Withdrawals include sources regulated under the Water Supply Management Act (N.J.S.A. 58:2-1 et seq.), and estimates of those from private domestic wells and small, public non-community water systems. Use is defined as the volume of water actually used in the HUC11, after accounting for transfers. Use is categorized into one of eight use groups: agricultural, commercial, industrial, non-agricultural irrigation, mining, potable supply, power generation and not classified. Transfers consist of water moved between HUC11s and include fresh water (e.g. bulk transfers of potable water) and sewage (e.g. via sewer collection pipes). Discharge points and reported discharge volumes are also included.
Owing to the large file size of this report, it is divided into a User's Guide and 20 appendixes, one for each Watershed Management Area (WMA). The User's Guide provides background information on the data source, corrections, definitions and other details relating to the development of this report. Each appendix consists of two pages for each HUC11 located within the WMA of interest. The first page is a cover page. The even numbered page contains tables and figures summarizing volumes and other descriptive statistics for the specific HUC11. The odd numbered page shows a map with withdrawal points, discharge points and base map information for the same HUC11.
This report is intended for a technical audience familiar with water-supply issues in New Jersey. It assumes the reader has a general understanding of water withdrawal, transfer and discharge practices as well as the watersheds of New Jersey.
This report supports the 2007 update of the New Jersey Water Supply Plan. The plan is updated on a periodic basis in order to ensure an adequate and safe supply of water.
Thanks to an ongoing data-accuracy evaluation process this report is more accurate than earlier ones.
---
Figure showing location of water regions, watershed management areas and HUC11 drainage basins in New Jersey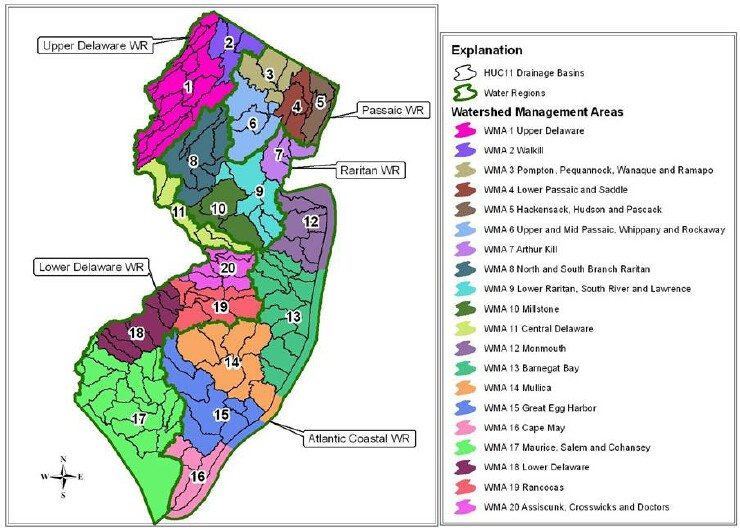 ---