About Digital Geodata Series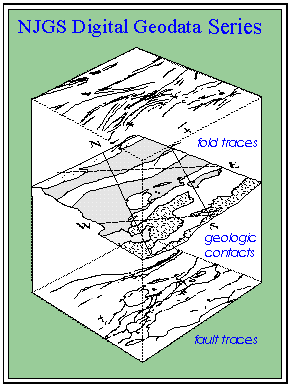 The Digital Geodata Series (DGS) are a set of digital data files that can be retreived using Internet browsers for the World-Wide-Web. The Series includes DGS products and other reference and utility files. DGS products include data sets compiled for use in Geographic Information System (GIS) software, and other software applications stemming from Survey projects. DGS products for GIS include ESRI's™ ARC/INFO exported coverages (e00) and GRIDs, Arc Marco Language (AML) scripts and form menus, ArcView 3.x shapefiles, and geodatabases. Other DGS products include georegistered bit map and raster imagery, Microsoft Excel workbooks, Microsoft Acess databases, executable software programs, FGDC compliant metadata files, and other ASCII text files providing references, specifications, and notes.
DGS files are reviewed according to standards for the Survey Open-File products. They are provided here at no cost as compressed or archived binary files MIME type multipart/x-zip or multipart/x-tar). Some browsers may have to be configured to download a file using these MIME (Multimedia Internet Mail Extensions) protocols.
Pursuant to the NJ Department of Environmental Protection GIS data-sharing policy, any maps, publications, reports, or other documents that utilize NJDEP digital data will credit the NJDEP's Geographic Information System as the source of the data with the following credit/disclaimer:
   "This (map/publications/report) was developed using New 
   Jersey Department of Environmental Protection Geographic 
   Information System digital data, in conjunction with the DATA 
   USER's work, but this secondary product has not been verified 
   by NJDEP and is not state-authorized."

Data from the Digital Geodata Series are also available for distribution upon written request to the State Geologist. These data include topographic base-map imagery and other utility data that can be supplied in response to custom orders with costs reflecting data preparation and reproduction.