Digital Geodata Series
DGS01-2 Relational Data Files for GIS Display of New Jersey Water Withdrawals from 1990 to 1999
---
N.J. Geological Survey Digital Geodata Series DGS01-2 is a collection of ten relational data files in a dBASE IV format that document fresh-water withdrawals in New Jersey by county, HUC11 and HUC14 watersheds, watershed management areas, and water regions. Data are compiled for calender year 1999 and for the ten-year period from 1990 to 1999. They are being made available in a digital format to facilitate water-supply planning and watershed management in New Jersey. These data summarize fresh-water withdrawal activities for commercial, industrial, and agricultural users who can produce more than 100,000 gallons of water a day, and therefore are regulated by the N.J. Department of Environmental Protection (NJDEP) Bureau of Water Allocation. The dBASE files are designed to be used in conjunction with a set of geographic information systems (GIS) polygon coverages available from the NJDEP GIS. Each file contains data on withdrawal volumes, sources, and uses and a data field used for joining these information to the correlative GIS coverages. Metadata files are included that document each data file using the Federal Geographic Data Committee metadata standard.
Data are reported for water source and how the water is used, but not where the water is used. Information on water transfers, discharge activities, saline-water withdrawals and both depletive and consumptive uses are not included. More information on the compilation and interpretation of these data is available from the N.J.Geological Survey Open-File Report OFR 00-1; New Jersey Water Withdrawals 1990-1996, available from the NJDEP Maps and Publications Sales Office.
---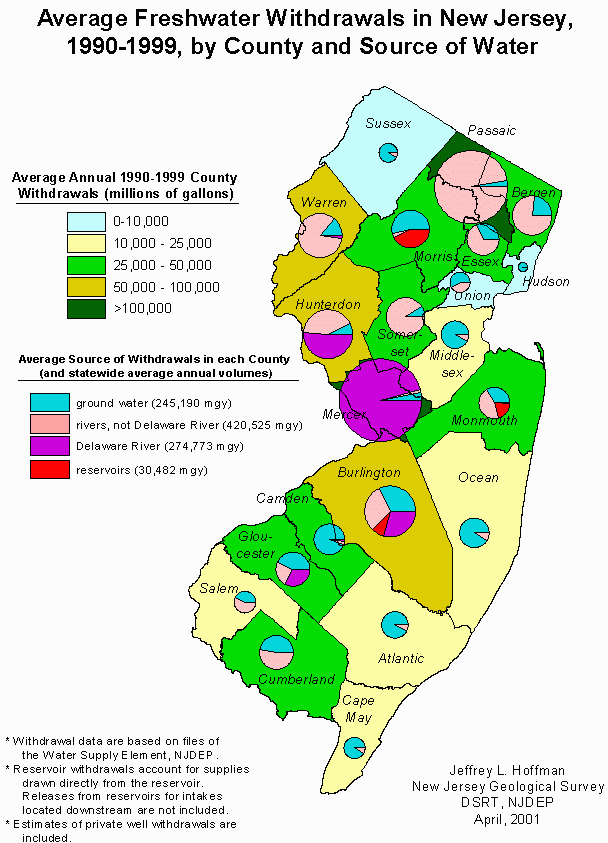 Sample image of an ESRI's ARCVIEW ® plot made by linking the file Cnty9099q.dbfr to the STCO shapefile available from the NJDEP GIS web page.