Digital Geodata Series
DGS96-1 Glacial Sediments of New Jersey



dgs96-1.zip (1.22MB) (Updated 12-22-2005)
---
Glacial Sediments of New Jersey includes three ARC/INFO Geographic Information Systems (GIS) coverages compiled from NJGS Open-File Map No. 3, Hydrogeologic Character and Thickness of the Glacial Sediment of New Jersey, 1990 (revised 2005). These coverages detail the map distribution, thickness, and types of Quaternary glacial sediment in northern New Jersey at the 1:100,000 scale. The GIS data are compiled in NAD83 State-Plane-Coordinate feet using an optical scanner, raster-to-vector conversion software, and a digitizer. The "sediment" theme contains polygons of stratigraphic units. The "sedthick" theme contains isopach-contour lines and polygons of sediment thickness values in 50-foot intervals. The "sometill" theme contains polygons of till deposits overlying fluvial and lacustrine sediment.
Since the last revision (2002), a northern New Jersey state boundary polygon has been added to the "Sedthick" coverage with all applicable field data that ties into the geographic area. The parameters have also been updated within the metadata.
---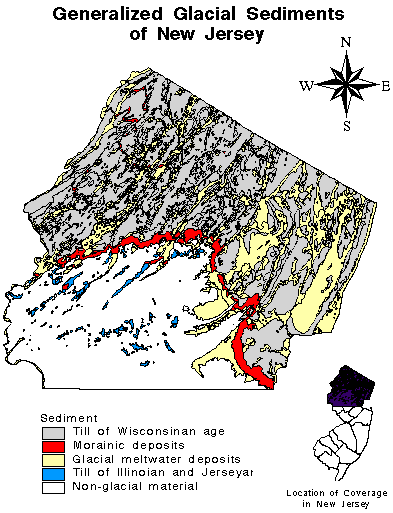 This map shows some of the data included in DGS 96-1.