Digital Geodata Series
DGS99-2 MS Excel Workbook Implementing the NJGS Ground-Water-Recharge
Methodology UPDATED 2009
---
Abstract
N.J. Geological Survey DGS99-2 includes a Microsoft (MS) Excel Workbook that can be used to estimate the amount of average annual ground-water recharge for any land parcel in New Jersey. A user's guide is also provided as an Adobe Acrobat™ document. Ground-water recharge is defined as the quantity of freshwater derived from precipitation that infiltrates vertically downward from the land surface to below the root zone. At this point the water may move laterally to discharge in streams or downward to enter an aquifer. The workbook is based on N.J. Geological Survey Report GSR-32 (Charles and others, 1993). The GSR-32 methodology uses calculation factors that are a function of the site's municipality or HUC14 watershed, soil, and land use/land cover (LULC). These factors are published in GSR-32 as data appendices and are reproduced here in a digital format. It is recommended that DGS99-2 is used only with a working knowledge of the assumptions and procedures incorporated in GSR-32.
The Natural Resources Conservation Service (NRCS), in 2005, has published a remapping of New Jersey's Soils. This Version (version 6) of DGS99-2 incorporates these changes to soils. A mapping process correlated the new soils with the older versions used in previous version of DGS99-2. Appropriate soil factors were transferred to the new soils based on which old soils each correlated with. This version (version 6.1) makes a minor modification to an internal flag that was returning misleading, but correct, values.
In a 2006 update (version 5 of DGS99-2) the New Jersey Geological Survey re-estimated the climate factors for normal precipitation conditions and added climate factors for drought conditions. Annual recharge under normal and drought conditions are now provided. The process by which normal and drought climate factors were re-evaluated is provided in Hoffman and French (2008).
A 2002 update (version 4 of DGS99-2) added the ability to specify location by either municipality (the option in the original version) or by HUC14 watershed, user specification of land use, soil, and location by the use of pull down pick lists, and ability to enter lot size in acres.
References:
Charles, E.G., Behroozi, Cyrus, Schooley, Jack, and Hoffman, J.L., 1993, A method for evaluating ground-water-recharge areas in New Jersey: N.J. Geological Survey Report GSR-32, 95 p.
Hoffman, J.L. and French, M.A., 2008, Ground-water recharge in the New Jersey Highlands Region: N.J. Geological Survey Open-File Report 08-1, 18p.
Soil Survey Staff, Natural Resources Conservation Service, United States Department of Agriculture, 2005. Soil Survey Geographic (SSURGO) Database for New Jersey: Available online at http://soildatamart.nrcs.usda.gov.
---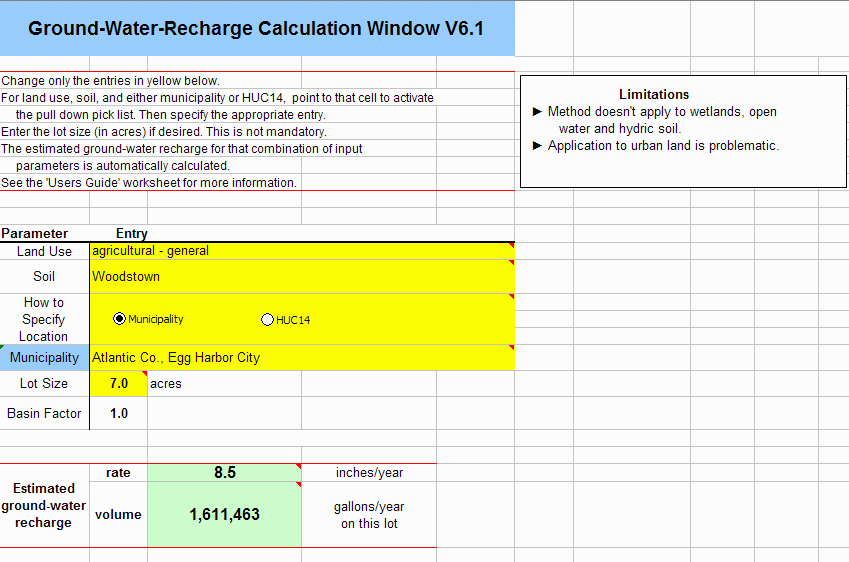 This image shows the MS Excel Workbook screen display.