Commissioner Badolato Visits Hamilton West High School's Government Class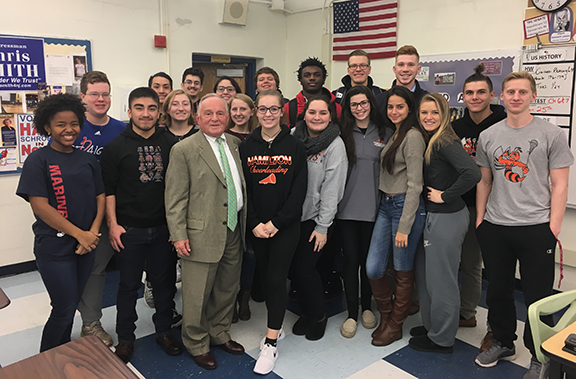 HAMILTON — Department of Banking and Insurance Commissioner Richard J. Badolato and DOBI staff last week visited the Government and Law Related Experiences (GALRE) class at Hamilton West High School. Commissioner Badolato shared his career experience in law and in leading DOBI.

"This Department fosters a regulatory culture that promotes growth and strengthens the financial industries we regulate while also doing an excellent job of educating and protecting New Jersey consumers," Commissioner Badolato told students. "We have worked successfully for the enactment of laws that have promoted growth of the financial services industries in New Jersey."
The honors elective class provides in-depth knowledge and first-hand experiences in the political process on national, state and local levels. It aims to teach students who may be interested in a career in politics, law, government services, community affairs or other related fields. The course provides students with the opportunity to meet with political and civic leaders both in the classroom and at government agencies or political meetings.


Photo
caption:
Commissioner Badolato was hosted last week by student Desiree Ramos and Hamilton West High School's Government and Law Related Experiences (GALRE) honors class to talk about his experience in State Government and the practice of law.
###
OPRA is a state law that was enacted to give the public greater access to government records maintained by public agencies in New Jersey.

You will need to download the latest version of Adobe Acrobat Reader in order to correctly view and print PDF (Portable Document Format) files from this web site.
Copyright © 2011, State of New Jersey
New Jersey Department of Banking and Insurance