Commissioner Badolato Celebrates National Financial Literacy Month with Junior Achievement of New Jersey at Finance Park and BizTown
EDISON —Department of Banking and Insurance Commissioner Richard J. Badolato this week helped Junior Achievement celebrate April being National Financial Literacy Month with a visit to the Junior Achievement of New Jersey Education Center. Commissioner Badolato spoke about financial literacy with high school students attending Finance Park and toured BizTown, a simulated mini-city that culminates the experiential learning curriculum for New Jersey 5th and 6th graders. Following 13-teacher taught lessons, the BizTown curriculum takes students on a day-long field trip to the JA Education Center where they learn about work readiness, entrepreneurship and financial literacy.

"It is my hope that the programs students experienced today stay with them for the rest of their lives," said Commissioner Badolato. "Finance Park and BizTown are truly exciting places where extremely important financial literacy learning takes place."

Finance Park is the culmination of a four week financial literacy program taught at high schools across the State. On the final day of the course, students visit the Junior Achievement Finance Park where volunteers assist them in making simulated financial decisions.

Students take on fictional jobs with income and debit cards and then set financial plans that allow them to budget based on their annual income. They visit various kiosks in the park that represent typical daily living expenses such as electric bills, housing costs, transportation costs, health care, and home improvement.

Junior Achievement of New Jersey, a non-profit organization dedicated to educating young people about business, economics and free enterprise, partners with the Department on many Financial Literacy programs. Through a dedicated volunteer network, JA offers in-school and after-school programs for students in grades K-12 including Financial Programs which it conducts with DOBI and the business community. JA Finance Park, which made its debut in Newark in February 2009, reaches tens of thousands of students every school year. By the end of June, the Junior Achievement of New Jersey will have taught 68,000 New Jersey students during the 2016-2017 school year through its financial literacy programs.
Commissioner Badolato visited the JA of New Jersey programs as part of the Department's ongoing Financial Literacy effort. For the last 10 years, the Department has conducted financial literacy programs for high school students and spoken to thousands of students in school across the State about topics including basic personal finance, the importance of credit and how to manage credit cards. The Department expanded the program to include presentations for senior citizens in 2012, and for college students in 2013.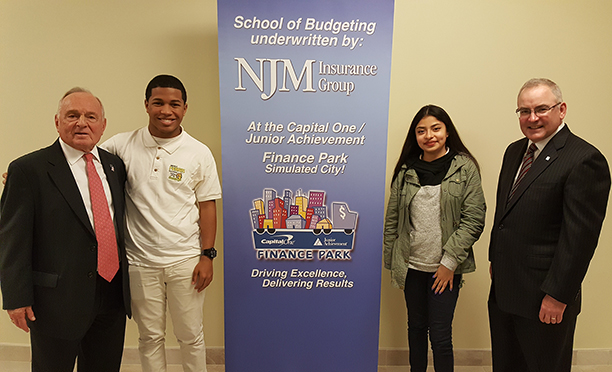 DOBI Commissioner Badolato visited JA Finance Park in Edison this week. Above from left to right, Commissioner Badolato, Finance Park participants Jonathan Padilla, 10th grade student and Leslie Soriano, 12th grade student at the James J. Ferris High School, Jersey City, and Bernie Flynn, CEO of NJM Insurance Group.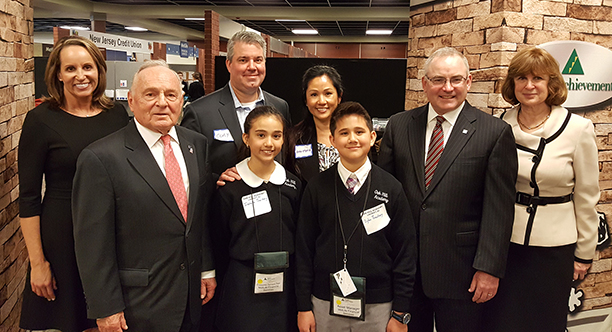 DOBI Commissioner Badolato toured JA BizTown in Edison this week. Back Row, left to right, Catherine Milone, President, Junior Achievement of New Jersey; Cory Thackeray and Ann-Marie Thackeray, BizTown volunteer parents, Oak Hill Academy in Lincroft and Patricia Hartpence, Assistant Vice President, NJM Insurance Group; Front Row, left to right, Commissioner Badolato; Isabella Thackeray and Dylan Thackeray, 5th grade students of Oak Hill Academy participating in BizTown and Bernie Flynn, CEO of NJM Insurance Group.
###
OPRA is a state law that was enacted to give the public greater access to government records maintained by public agencies in New Jersey.

You will need to download the latest version of Adobe Acrobat Reader in order to correctly view and print PDF (Portable Document Format) files from this web site.
Copyright © 2011, State of New Jersey
New Jersey Department of Banking and Insurance