Delaware River Basin Commission
---
Delaware • New Jersey • Pennsylvania
---
New York • United States of America
---
Cleanup of the Delaware River Leads to American Shad's Return
The lower Delaware was an open sewer at the height of World War II. Along some reaches, the pollution robbed the river of all its oxygen, making it impossible for shad and other fish to breathe.
The American shad that hatched in the Delaware and migrated to the ocean to spend most of their lives tried to return to the river of their birth to spawn after reaching adulthood. Unfortunately, the "pollution block" in the Wilmington/Philadelphia/Camden vicinity -- areas where there was not enough oxygen in the water for them to survive -- severely interfered with the spawning run. The Lewis fishery in Lambertville, New Jersey caught 10,000 shad in 1896. By 1953, the total catch was zero.
A major goal during the 1960s and 1970s was to bring the river back to life.
Today, the cleanup of the Delaware is hailed as one of the world's top water quality success stories. The number of American shad in the Delaware River increased dramatically by the late 1980s and early 1990s due in large part to pollution control programs conducted by the Delaware River Basin Commission (DRBC) and other environmental agencies.
The data in the graphic below were generated from sampling on the Delaware River at the Ben Franklin Bridge, which connects Philadelphia, Pa. and Camden, N.J, in July. It shows a steady improvement in dissolved oxygen (DO) levels since the mid-1960s.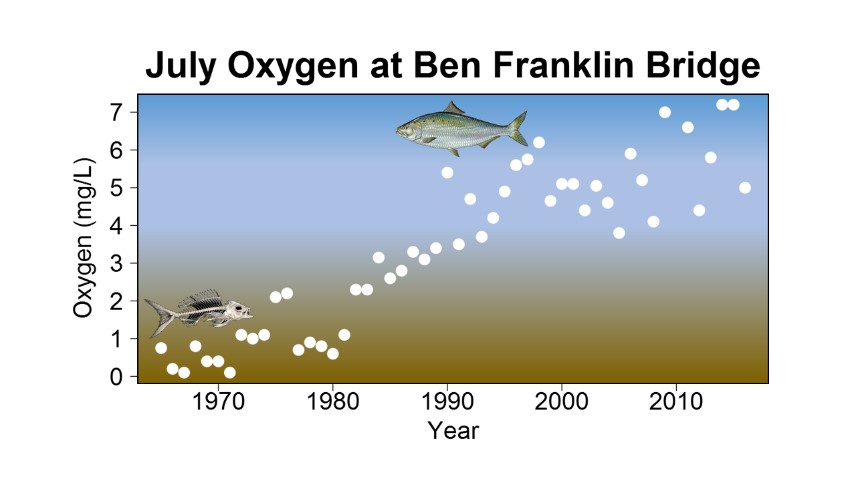 In recent years, however, American shad numbers have slipped in nearly all river systems along the Atlantic coast. Despite the water quality improvements and no dams on its main stem which obstruct spawning runs in other East Coast rivers, shad populations in the Delaware River have decreased to levels seen in the late 1970s. This is a perplexing situation to scientists searching for answers. Declines are possibly due to ocean-intercept fisheries, excessive predation by game fish such as striped bass, and various other threats to habitat in rivers, estuaries, and the Atlantic Ocean where shad spend most of their adult lives. American shad are managed by the Atlantic States Marine Fisheries Commission (ASMFC) under a Fisheries Management Plan implemented to facilitate cooperative management and stock restoration among the states. For more information, visit the following web sites:
National Oceanic and Atmospheric Administration's
National Marine Fisheries Service Northeast Fisheries Science Center
American Shad Indicator Page from the 2008 DRBC State of the Basin Report (pdf 226 KB)
Commission Member Links:
Delaware
|
New Jersey
|
Pennsylvania
|
New York
|
United States
Copyright © Delaware River Basin Commission,
P.O. Box 7360, West Trenton, NJ 08628-0360
Phone (609)883-9500; Fax (609)883-9522
Thanks to NJ for hosting the DRBC website
Last Modified: 08/15/2017