Delaware River Basin Commission
---
Delaware • New Jersey • Pennsylvania
---
New York • United States of America
---
DRBC Outreach/Education: Info for Students & Teachers
Learn about Water & the Delaware River Basin!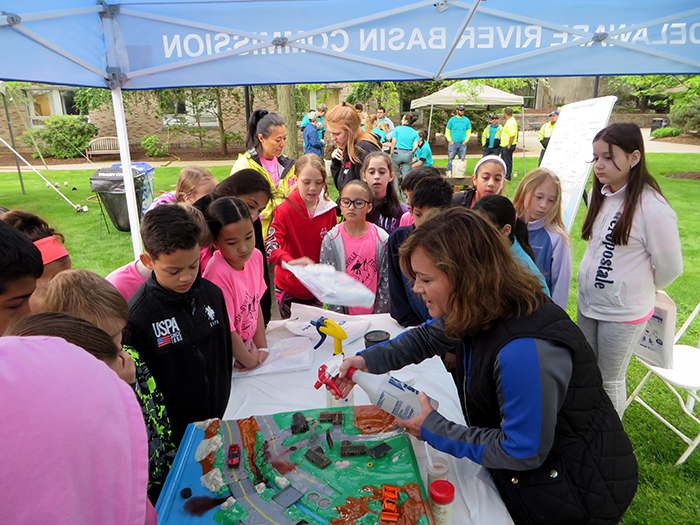 DRBC's Denise McHugh teaches kids about sources of water pollution at HydroMania 2019.
Photo by DRBC.
In addition to participating in educational outreach events, DRBC also provides information on its website to help people learn about the Delaware River Basin and our water resources.
All About the Delaware River Basin
From the DRBC:
Other Sources:
General Information about Water Resources
Watersheds and the Water Cycle:
Caring for Our Watersheds - This website offers a great one-minute watershed explainer video, as well as educational programs that engage students in preserving and improving their local watersheds.


Community Collaborative Rain, Hail & Snow Network (CoCoRaHS) Educational Series - Watch a short, animated video on YouTube explaining the water cycle. CoCoRaHS is a grassroots volunteer network of backyard weather observers of all ages and backgrounds working together to measure and map precipitation in their local communities.


Project WET Foundation - Water Education for Teachers


New Jersey DEP's Watershed Information - You'll find basic information as well as links to restoration projects, approved watershed plans, outreach/education, and publications


New York State DEC's Watersheds, Lakes, and Rivers Page - Learn about New York State's watersheds


River Runner: this application by web visualization/developer Sam Learner allows you to click on the map anywhere in the U.S. and follow the "drop of water" as it flows through its watershed. This is a great way to visualize a watershed and how rivers and streams are connected.


U.S. EPA's How's My Waterway - Helps you locate, use, and share environmental information about watersheds


U.S. Geological Survey's Water Science School - Includes:


WikiWatershed™ - This Stroud Water Research Center product is a collection of web-based water resources information for the Basin community.
Water Conservation & Droughts:
Ground Water and Drinking Water:
Estuaries and Wetlands:
Water Quality:
Other Environmental Education Info
Environmental Education Centers in the DRB:
Other Resources:
Commission Member Links:
Delaware
|
New Jersey
|
Pennsylvania
|
New York
|
United States
Copyright © Delaware River Basin Commission,
P.O. Box 7360, West Trenton, NJ 08628-0360
Phone (609)883-9500; Fax (609)883-9522
Thanks to NJ for hosting the DRBC website
Last Modified: 01/31/2023