Raising a family is a big job. For 40 years, WIC has supported families by helping them give their children a healthy start.

WIC helps families save money and stretch their food budget three ways:
1. Basic Food Package
WIC mothers receive monthly vouchers for healthy foods that can be used in more than 900 New Jersey stores to purchase milk, cheese, eggs, cereals, whole wheat bread, and much, much more.
2. Cash Value Voucher (CVV)
Use at stores year-round to buy fresh, canned or frozen fruits and vegetables. Accepted at farmers' markets, too.
$10 per month for Moms
$8 per month for each child over the age of 2 up to the age of 5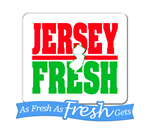 3. Get Fresh! At Your Farmer's Market
From now through November, you can buy locally grown fresh fruits and vegetables knowing that your children are getting more of the important nutrients their bodies need to grow strong.
$20 for Moms
$20 for each child over the age of 2 up to the age of 5
Contact WIC today to see if you qualify
WIC is open to pregnant, postpartum and breastfeeding mothers and their children up to age five who meet the income guidelines and live in New Jersey.
To see if you qualify,
Call your local WIC office and schedule an appointment or
Call 1-800-328-3838 to find the WIC office near you. Operators are available to answer your call 24-hours a day.