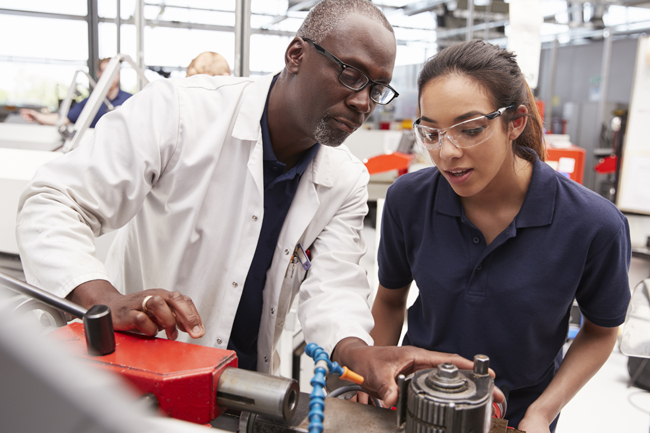 What is Apprenticeship?
Apprenticeship is a career pathway comprised of learn-while-you-earn and educational/ instructional components. For apprentices, apprenticeship is a job and an opportunity to learn specialized skills that lead to permanent, sustaining careers. For employers, apprenticeship is an opportunity to develop a future workforce that is nimble, educated, and trained to your specifications and needs. The benefits of apprenticeship are many. By combining on-the-job learning with related classroom instruction, an apprentice's skill level – and their benefit to the employer – increases. Since apprenticeship is a flexible model, programs can be customized to meet the needs of nearly every type of business and can be integrated into existing training and human resource development practices. There is almost no industry sector that cannot benefit from an apprentice program. Whether you are a potential apprentice looking to start your career journey, or an employer looking to satisfy your workforce needs, your apprenticeship journey starts here.
Hire an Apprentice
Apprenticeship sponsors develop highly skilled, customized employees. Established apprenticeship programs have been shown to reduce turnover rates, increase productivity, lower the cost of recruitment, and increase safety in the workplace.
Become an Apprentice
Apprenticeships offer a hands-on approach to launching a sustaining career in hundreds of fields, from chef and child care development specialist to dental assistant, and electrician, to name just a few. Apprentices receive a combination of on-the-job training and related technical instruction to master the practical and theoretical aspects of a skilled occupation. Apprentices learn increasingly difficult tasks under the supervision of more experienced workers, often working toward a degree or industry credential at the same time.
Apprentices receive a combination of on-the-job training (OJT) and related technical instruction (RTI) to master the practical and theoretical aspects of a skilled occupation. During the on-the-job training, apprentices learn to do increasingly difficult tasks under the supervision of an experienced journey worker. OJT typically involves a full eight-hour work day, or at least 2,000 hours a year for each year of the apprenticeship program. Apprenticeship programs normally last between four and six years, with four years being the average.
Governor Murphy Announces $4.5M in Grants to Grow Apprenticeships in High-Demand Industries
This new multi-million-dollar grant program is designed to spur the creation and expansion of apprenticeship programs in non-traditional business sectors.
Apprenticeship Frequently Asked Questions & Fast Facts
More Information
For more information on becoming an employer sponsor, or to learn more about the benefits of apprenticeship, please contact the New Jersey Office of Apprenticeship at apprenticeships@dol.nj.gov or complete our intake form.