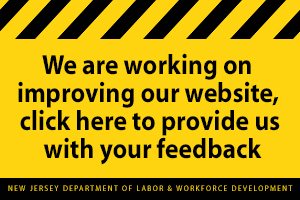 How to operate the interactive Power BI Dashboard below: _______
- click here or the image below to interact with the dynamic dashboard
- hover over visuals to see specific data
- clicking on a visual will filter all others by that selection, holding the "ctrl" key down and clicking another visual will
further narrow data by the selected categories
(to undo these selections, click the same object)
- the yellow boxes in the center are "hard" filters which will filter all visuals down to the selected Industry Sector or
Wage Range
(to remove filters click the eraser icon in the top right corner of the yellow boxes)
2009-2013 5-year Worker Flow Files for New Jersey Counties and Municipalities
(08/2015)


Census Reporter - Home Page Census Reporter - New Jersey (03/2016)


Census Business Builder (08/2015)


New Jersey Industry and Occupational Employment Projections 2014-2024 (10/2016)


Occupational Employment and Wages, 2017: A Detailed Analysis of New Jersey's Occupational Landscape (01/2019)


Current Employment Press Release (01/2022)


Latest Unemployment Rate (01/2022)


Latest Labor Market Information Update (10/2021)


Latest Residential Building Permit Data (01/2022)
Economic Indicators Data Series (10/2020)


2010 Census Affirmative Action 5-year ACS Data Data contain residence based summary occupational information by Race/Ethnicity and Sex for Affirmative Action/EEO Plans Tabulation 2006-2010 (5-year ACS data). October 5, 2013


My Congressional District gives you quick and easy access to selected statistics by the U.S. Census Bureau through the American Community Survey. Find detail information on People, Jobs, Housing, Economic, or Education for each New Jersey Congressional District. September 18, 2014


Key Industry Sector Fact Sheet illustrates the significance of the seven key industry sectors to the state's economy. October 2017
County Briefs - Labor Market Facts
provides a snapshot of relevant labor market facts by county
OnTheMap (OTM) Version 6 provides detailed maps showing where people work and workers live with companion reports on worker ages, earnings, industry distribution, and local workforce indicators. June 2013

Inflow/Outflow Analysis shows the count and characteristics of worker flows in to,out of, and within the selected study area. December 2016


Population & Labor Force Projections This directory contains population and labor force projections from 2014 to 2019, 2024, 2029 and 2034 by age, race, sex and Hispanic origin for the state and by county. (6/2017)
New Jersey Census Data
Population and frequently requested census bureau information on the national, state and county levels
Consumer Price Index Tools
How the prices paid by urban consumers for a fixed market basket of goods and services has changed over time.
Regional - Focus

Regional Focus offers insight and analysis on the changing employment situation in New Jersey's regional labor areas, its industries and comparisons with statewide data. The articles, tables and charts illustrating employment by industry, unemployment rates, characteristics of the unemployed, and highlights of economic activity let Regional Focus develop a picture of New Jersey labor areas and insight into changes within them.
Industry Sector - Focus

New Jersey's commitment to investment, collaboration and talent development supports growth in key industry sectors that drive economic expansion. Industry sectors are the engines that drive job growth and attract new businesses in New Jersey. Analysis of New Jersey's key industry sectors is provided in a more accessible and usable format to help keep New Jersey's industry sectors in focus.
Labor Market Views

New Jersey Labor Market Views offers valuable economic intelligence, presented in a more accessible and usable format to help you keep New Jersey's labor market situation in focus.
New Jersey Industry and Occupational Employment Projections
2014-2024

Planning for the future labor force requires some idea of where the present labormarket is headed. Every two years, the New Jersey Department of Labor andWorkforce Development revisits and updates the ten year employment projections by industry and occupation. The 2014-2024 projections provide a longer-range look at the direction in which recent trends and data show the state's industries and occupations appear to be heading.
Census 2000 Publications for New Jersey
Contains a directory of publications prepared by the New Jersey Department of Labor and Workforce Development using data from the 2000 Census. Topics covered include New Jersey population trends 1790-2000, money income and poverty, population by race and more.
Subscribe to Labor Market Information Online
Join our LMI mailing list to receive our publications.

Join our Product Update list to receive periodic employment & economy updates.

Data Tools to Assist You with Your Search

Search occupations, view employment & wage data by area

Statewide industry employment projections for 2010 to 2020.
Statewide occupational employment projections for 2010 to 2020.
Sources of New Jersey employer name and address listings.
Find occupations by industry for state and county
Employers Covered by New Jersey's Unemployment Insurance Law
Demand Occupations List to find where the work is, and assist clients seeking skills training in making appropriate training decisions.
Training Programs for Demand Occupations can help career counselors and their clients find relevant skills training programs; shows you where skills gaps are present in the current economy, as well as the size of the skills shortage; and, anticipated employer need for trained workers in the listed fields.


The Occupational Employment Statistics Wage Survey
The Occupational Employment Statistics Wage Survey provides valuable input for wage comparisons and for identifying trends in emerging or declining occupations -- precisely the kind of information needed by both employers as well as those who are choosing or changing careers.
| | | |
| --- | --- | --- |
| | | |
| | | |
| | | |
| | | Jersey Job Club gives you the tools and support you need to find a job. We'll help you develop new skills and build up skills you already have. |
| | | |
| | | One-Stop Career Centers offer services (free of charge) to help you develop the skills needed to succeed in a 21st century work environment. |
| | | |
| | | Job fairs are an excellent opportunity to fine tune your networking and interviewing skills and make professional connections to aid you in your job search. |
| | | |
| | | Job Search 101 Learn about all the ways the NJ Department of Labor & Workforce Development can help get your job search started off on the right foot in this brief video tutorial. |
| | | |