GUARDLIFE ::
Vol 27, No. 1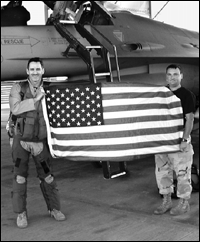 GUARDLIFE STAFF
Editor
Col. John Dwyer
Assistant Editor-Production
Staff Sgt. Mark C. Olsen
Photographer
Sgt. First Class Declan Callan
Writers
Staff Sgt. Barb Harbison
Staff Sgt. Robert Stephenson
GUARDLIFE is a product of the NJDMAVA Public Affairs Office, the 444th Mobile Public Affairs Detachment, the 177th Fighter Wing, and the 108th Air Refueling Wing Public Affairs Offices. GUARDLIFE is published under provisions of AR 360-81 and AFR 190-7. Opinions expressed in GUARDLIFE are not to be considered the official view of this headquarters, the Department of the Army or Air Force. This is printed via the photo offset process. Letters may be sent to: GUARDLIFE, Public Affairs Office, P.O. Box 340, Department of Military and Veterans Affairs, Trenton, New Jersey, 08625-0340. E-mail address is: OLSENM@NJDMAVA.STATE.NJ.US
About The Cover : Fireman's Carry Spc. Charvel Tosov, Charlie Company, 250th Forward Support Battalion performs a fireman's carry on an unknown soldier during the DISCOM mass casualty exercise at Fort Drum.
Photos by Staff Sgt. Mark Olsen.
Corrections On page 17 of Vol., 26, No., 2; the lower right corner picture caption identified the person as Harry Kent. The correct name is retired Chief Master Sgt. Earle W. Johnson. The lions refused to eat the responsible parties.