Table of Contents
:: TAG's Message
:: GWOT Memorial Dedication
:: 50th Brigade Honored
:: CSM Message
:: 108th Passes 6,000-hour Mark / Wing Passes UCI
:: 119th CSB Update
:: Controlled Burn at Warren Grove / A Day in the Life / Airman Top Cop
:: Armor Returns from GTMO
:: HET Back from Iraq
:: News Guard Families Can Use
:: 21st CST Trains
:: Short Rounds
:: Army and Air Enlisted Promotions
:: Last Round
:: Family Assistance Centers & Family Readiness Centers
:: Guardlife Information

Guardlife - Volume 31, No. 2
177th Holds Controlled Burn at Warren Grove


On March 15 and 16, Detachment 1, 177th Fighter Wing, Warren Grove Range, in coordination with the New Jersey Forest Fire Service, B Division and Drexel University
performed it's annual controlled burn.
Close to 70 people were involved in the operation, which cleared approximately 900 acres as part of a five-to seven-year cycle that clears different parts of the range.
Controlled burns remove underbrush - a wildfire fuel source, opens areas for growth and keeps the woods in healthy condition. It also provided the Drexel Forestry students the opportunity to study the effects of controlled burning on this type of forest.

A Day in the Life...

Tech. Sgt. Dave Reaves, 177th Fighter Wing Sheet Metal Shop, welds a bead. Tech. Sgt. Reaves was photographed as part of the "Day In The Life Of The 177th Fighter Wing" held in February. The concept is based on the photo books that documented a single day in a country. The project was a combined effort of the 177th MultiMedia Center, Avionics Intermediate Shop and Public Affairs. Photo by Master Sgt. Don Taggart, 177FW / Communications Flight.

Airman Top Cop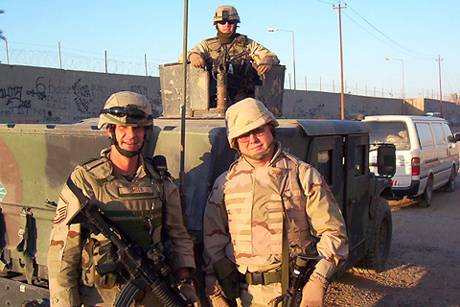 Senior Master Sgt. Michael Francis (right), 177th Fighter Wing Security Forces, poses with Master Sgt. Brian Smith (left) and Airman 1st Class Jason Payne (turret) after completing a convoy security mission. Senior Master Sgt. Francis recently deployed to Baghdad to augment the Cannon Air Force Base Security Forces Squadron as the Security Forces Squadron Superintendent. Senior Master Sgt. Francis is the 177th's Anti-Terrorism Force Protection Non Commissioned Officer in Charge. He is also a Lieutenant with the Margate Police Force in Atlantic County. Photo courtesy Senior Master Sgt. Michael Francis.