---
Programs of the Outreach Unit
Contact Information:
Outreach Unit
609-882-2000 x 2287
OutreachUnit@njsp.org
---
---
Child Protective Seat Installation (CPS)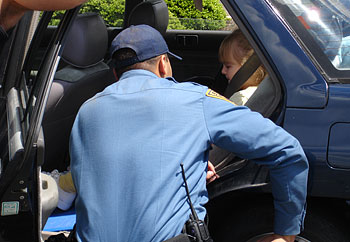 Motor vehicle crashes are the number one cause of deaths of children over the age of six months in the United States. The proper use of child car seats is one of simplest and most effective methods available for protecting the lives of our children in the event of a motor vehicle crash. Only the correct use of child car seats will offer the protection that children need.
---
School Safety
The Outreach Unit recognize the need for safety and security in public, charter and private schools. The unit supports stations with schools and the School Resource Trooper (SRT) Program. Additionally the unit provides training and direction ensuring schools are prepared for emergencies they encounter.
Downloadable Templates
If you are having difficultly downloading these templates try the following:
Ensure you are using the most current form of Adobe Reader.
Open the document in your computer, not using your internet browser. Once you have clicked the document it has already downloaded. To find the document, close your internet browser and search your computer. Once you locate it, simply click to open.
---
New Jersey Drive/Teen Driver Program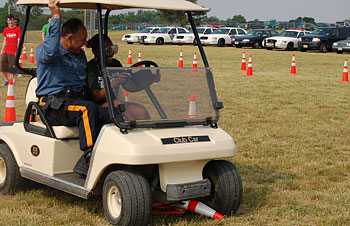 The program is implemented at high schools throughout the state to educate teens about the hazards of driving while under the influence and to reinforce safe driving practices. The program involves the use of golf carts and Fatal Vision goggles to experience the effects of alcohol on reaction time and vision distortion. While not completely exposing a student to the physiological and psychological effects of alcohol, this practical exercise, combined with a classroom presentation explaining the hazards of driving while under the influence of alcohol, has a lasting impact on students. The Graduate Drivers License (GDL) process is taught to students with an emphasis on the importance of the process.
Offers a multifaceted, interactive program to educate the public on the dangers and consequences of Driving While Impaired (DWI). This program utilizes both the Fatal Vision Goggles along with golf-carts on a designed course.
---
Fatal Vision
The fatal vision goggles are a training tool to vividly demonstrate the concept of impairment and the dangers of impaired driving. This program can serve a dual purpose as a stand-alone lesson plan or in conjunction with a Drivers Education presentation.
---
Bicycle Safety for Students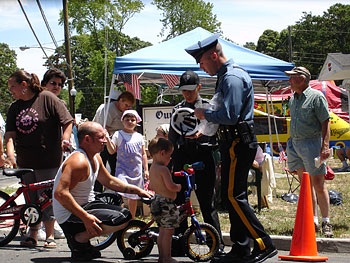 Acquaints the bicycle rider with the requirements and restrictions placed upon them by state law when they ride bicycles on public roads.
---
Bicycle Patrol
The deployment of a Bicycle Patrol will facilitate the delivery of police services during specialized details in congested areas. These services will be delivered in a more-timely manner due to the mobility of a Bicycle Patrol. The program trains, certifies and instructs officers on the various aspects of Bicycle Patrol. Troopers and officers learn riding techniques that will help their respective departments when they target specific areas within their communities.
---
Community Events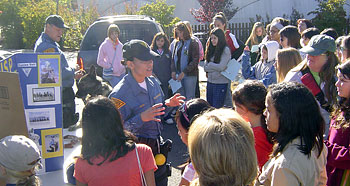 Various community events; including community days, festivals, fairs and celebratory days, as well as, town meetings.