State Troopers Employ Body Cameras
Bordentown, Bellmawr, and Red Lion Stations Begin Recording
West Trenton, N.J. – On Saturday, October 1, 2016, uniformed State troopers assigned to Bordentown, Bellmawr and Red Lion Stations will begin wearing body cameras during their patrol shifts to record interactions with the public.  These recordings will supplement the recordings that are already captured on patrol vehicle dashboard cameras by giving a camera angle from the trooper's point of view.  
"We were the first department in New Jersey to employ cameras in patrol vehicles about 16 years ago, and these recordings have been a tremendous resource for us," said Colonel Rick Fuentes, Superintendent.  "Attaching the cameras to our troopers will give us more information in a variety of locations.  They will help protect troopers and the public by creating an objective record of our interactions."
The cameras will be attached to the front, center area of the uniform and will capture video from a wide-angle lens, as well as audio of the incident (see attached photo).  Cameras will be activated at the onset of interactions with the public, to include motor vehicle stops, motor vehicle accidents, motorist aids, pedestrian contacts, warrant service attempts, calls for service and criminal investigations by uniform troopers.  The NJSP remains committed to maintaining the public trust and confidence by continuing to exhibit the highest degree of professionalism in all interactions with the public.
The Attorney General's Directive on Body Cameras is posted at this link:
https://www.nj.gov/oag/dcj/agguide/directives/2015-1_BWC.pdf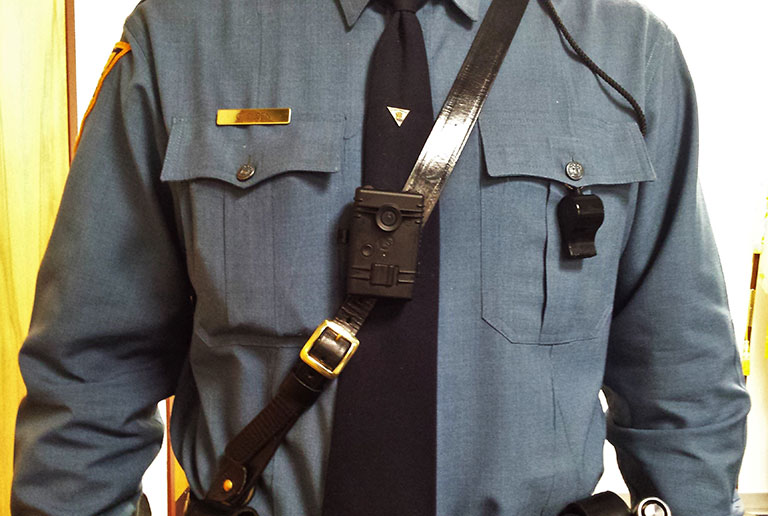 # # #
Follow the New Jersey State Police online at Twitter, Facebook and Instagram. The social media links provided are for reference only. The New Jersey State Police do not endorse any non-governmental websites, companies or applications.