149 Troopers Receive Badges at Brookdale Community College
165th New Jersey State Police Recruit Training Class Graduates
Lincroft, N.J. - Today, New Jersey State Police Superintendent Colonel Patrick J. Callahan, and New Jersey First Assistant Attorney General Lyndsay Ruotolo, presented badges to New Jersey's newest state troopers during a graduation ceremony at Brookdale Community College in Lincroft, N.J.
The 165th New Jersey State Police Class graduated 141 men and 8 women. Of this graduating class, 126 have college degrees, 24 are prior military, and 27 have prior law enforcement experience. Among the class, 55 were college athletes, 2 were firefighters, 5 were emergency medical technicians, and 1 was a professional athlete.
The class completed 24 weeks of strenuous physical and academic training consisting of classroom lessons and practical training scenarios. The recruits also participated in role-playing exercises such as motor vehicle stops and domestic violence situations. In the area of cultural diversity, the class received detailed instruction from community leaders and cultural organizations.
The life of a recruit is challenging in many ways. The New Jersey State Police Training Academy is one of the few residential academies in the nation. Recruits report to the academy before dawn on Monday morning, and they do not return home until dismissal on Friday evening. Therefore, recruits are away from their families during significant life events. During this academy class one recruit had a child born.
The newly graduated troopers have been assigned to stations throughout the state, and over the next few months, they will begin their careers under the watchful eye of their Trooper-Coaches and immediate supervisors.
"I am honored to welcome the latest class of brave and courageous State Troopers, who will undoubtedly uphold the core values of the New Jersey State Police – honor, duty, and fidelity," said Governor Murphy. "This class is joining the thousands of State Troopers who exemplify the very essence of New Jersey's finest, with exceptional dedication to protecting and serving those in our state. I look forward to witnessing the legacy they will build upon."
"The New Jersey State Police are one of the nation's finest law enforcement agencies and this newest group of Troopers has received the training and preparation necessary to continue that tradition," said First Assistant Attorney General Lyndsay V. Ruotolo. "The class also represents the diversity of our State. A quarter of the class is multilingual, most have college degrees, including one member who has a Ph. D., some are military veterans and the majority are the first in their families to serve in law enforcement. Their dedication to public service is an inspiration to us all and I wish them well as they begin what will undoubtedly be challenging and meaningful careers protecting the people of New Jersey."
"Today marks the culmination of 24 weeks of intense training for the women and men of the 165th Class as they begin their careers as New Jersey State Troopers. These new troopers will face a multitude of challenges in a forever changing environment," said Colonel Patrick J. Callahan, Superintendent of the New Jersey State Police. "I am confident that they are prepared to serve the communities across this state while upholding our core values of Honor, Duty, and Fidelity. They are not only role models but, sons, daughters, brothers, and sisters from diverse backgrounds who are resilient and chose a profession of service, demonstrating their commitment to selflessness. I look forward to what their futures hold as they continue to lead by example."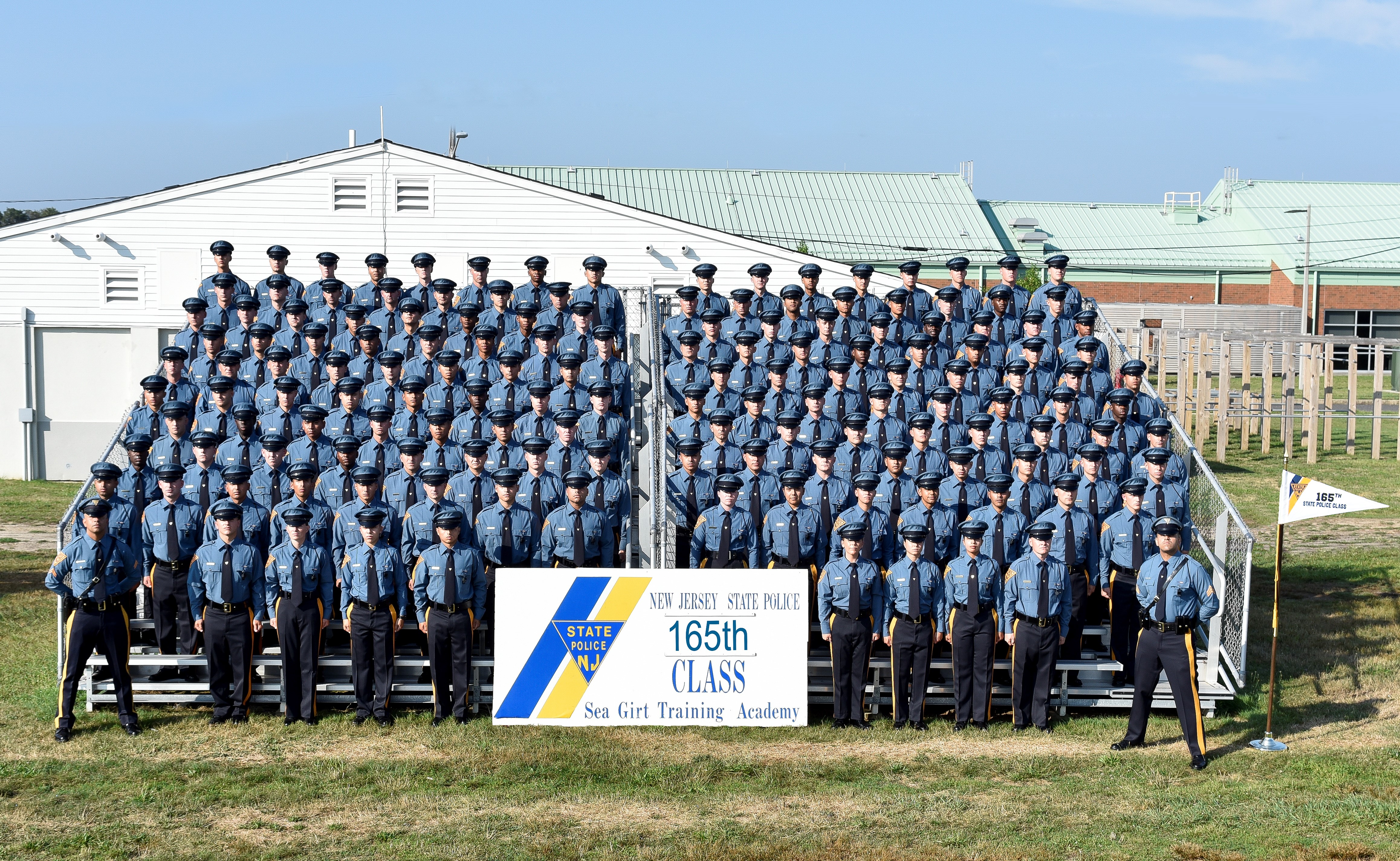 # # #
Follow the New Jersey State Police online at Twitter, Facebook and Instagram. The social media links provided are for reference only. The New Jersey State Police do not endorse any non-governmental websites, companies or applications. For additional information visit our website at www.nj.gov/njsp/