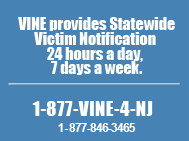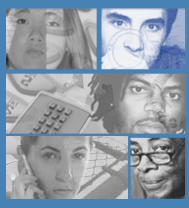 National VINELink Service

To check the custody status of your Offender

Providing crime victims peace-of-mind by knowing where their offenders are. This important information is only a phone call away at:

1-877-VINE-4-NJ

What will VINE do for me?
What do I need to do?

Register with VINE - Call toll-free 1-877-846-3465 from a touch - tone phone and follow the directions.....for more information >>

VINE Facts

The offender will not know you are registered
If you are not at home, the New Jersey VINE Service will leave a message on an answering machine. If there is no answer, VINE will keep calling back untill you enter your PIN code or until 24 hours have passed.
Since the New Jersey VINE Service calls automatically when an offender's custody status changes you may get a notification call in the middle of the night.
Do not leave a phone number with the New Jersey VINE Service that rings to a switchboard.
If you have caller ID, calls from VINE will display as from the 502 area code. If you any other call blocking/Interception device, please be aware that calls will not get through.
You can leave more than one phone number with New Jersey VINE Service.
The New Jersey VINE Service monitors offenders in the New Jersey's County Jails, the New Jersey Department of Correction, New Jersey Juvenile Justice Commission and the New Jersey Parole Board.
Do not depend solely on the New Jersey VINE Service or any other single program for you protection. Make the New Jersey VINE Service part of your safety.