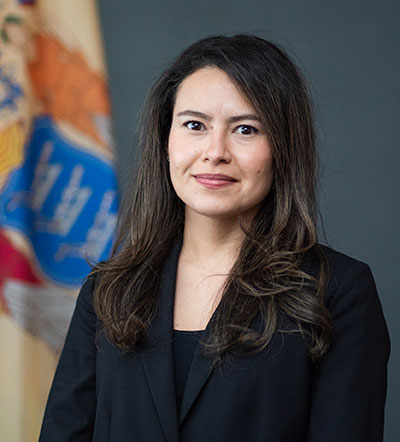 Marelyn Rivera serves as the Executive Director of the New Jersey Center for Hispanic Policy, Research and Development in the Department of State.
Marelyn has more than 15 years of experience in the public and private sectors, including work with local and state governments, as well as nonprofit organizations.
Prior to joining the Department of State, Marelyn had served as the Director of Communications and Outreach for the Department of Environment Protection and worked with Governor Phil Murphy, assisting his office with outreach and communication for all Latino-related issues for most of his first term. She served as chief of staff for a Hudson County Commissioner from 2014 to 2018. Marelyn also was a longtime event consultant, managing events, budgets and brand creative strategy. She has experience developing and executing multifaceted marketing strategies and campaigns, including in the retail sector, where she served as a merchandise coordinator, a promotions and eCommerce specialist and director of marketing.
Her passion is to help better the lives of all New Jerseyans.
From 2015 to 2018, she leveraged her professional insight to serve as a host of "North Hudson," a bilingual, local access television show focused on community leaders and local issues. She also has spent a great deal of time involved in philanthropic and community causes, with experiences ranging from serving as a co-founding trustee of the Hudson County Young Democrats and trustee emeritus for the Jersey City Youth Foundation to serving as a board member of groups such as Party With Purpose, Latinas United for Political Empowerment Fund (LUPE) and I Am Trenton Community Foundation, helping to raise funds. Marelyn also has traveled to Guatemala to volunteer and build homes for families in need.
A first-generation student of higher education in her family, Marelyn studied fashion marketing and management at Berkeley College. Raised in Hudson County, her family roots are in Honduras. She is bilingual and fluent in English and Spanish, and conversant in Italian. Marelyn lives in Trenton with her cat, Kitkat, and her dog, Gaia.