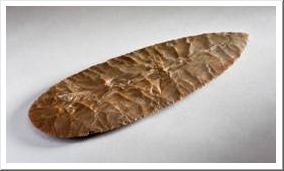 New Jersey's Original People: Interpreting the Archaeological Collection
On extended view
Main Building - Lower Level Gallery
New Jersey's Original People: Interpreting the Archaeological Collection tells the story of New Jersey's native people and their cultural adaptation to an ever-changing climate. The term "Original People" is one translation of the word Lenni Lenape, the name of New Jersey's native peoples.
From shortly after the glaciers receded 13,000 years ago up to the 17th century, native people used the natural resources in their own environment, and later brought in from other areas, to help them survive. Their ingenuity and ability to adapt is demonstrated through the display and interpretation of artifacts from the Museum's extensive archaeological collections. Scholars recognize the Museum's holdings of more than 2.4 million archaeological objects as the definitive systematic research collection for the study of the prehistory of New Jersey and the Middle Atlantic region. Visitors will see the evolution of tools and other artifact types and uses, illustrating how native peoples adapted to environmental change. Through projection, hands-on and intuitive interactives, this exhibit highlights the many aspects of Native American life and speaks to the ingenuity of New Jersey's "original people."
An adjacent gallery, "The Science of Archaeology," also provides visitors with an opportunity to encounter an "active" dig site. The "Science of Archaeology" gallery also serves as a classroom, orienting visitors on the science behind archaeological excavations and investigations. This installation explores how archaeologists, through the ongoing collection and analysis of artifacts, interpret the stories of prehistoric life in the Garden State to educate and inform current and future residents.
The exhibition was made possible through lead funding support provided by the PSEG Foundation, with additional generous support provided by the Friends of the New Jersey State Museum.
IMAGE CREDIT: Leaf - Shaped Biface Blade
Gloucester County, NJ
Gift of Rutgers University, Special Collections
AE2010.11.906