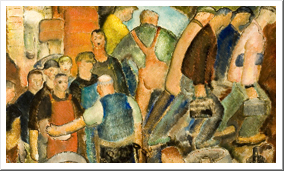 American Perspectives: The Fine Art Collection
On Long-term View
Main Building - Second Floor Galleries
This installation highlights the diversity of voices and visions found in 19th through 21st century American art. The exhibition explores the sources of artists' inspiration and how these inspirations changed over time; how travel to Europe - and the art being made there - influenced American trends; the impact of immigrant artists bringing their own sensibilities to the US; and how world and US events (historical, political, cultural, etc.) impacted artists.
The exhibition allows visitors to see that art-making does not happen in a stylistic or ideological vacuum. Works created by academic, expressionist, folk, modernist and visionary artists will be shown together in a roughly chronological format to present the range, variety and complexity of America's fine art. In addition, important works by significant NJ artists will be highlighted within the context of American art.
The exhibition was made possible, in part, with support from the Friends of the New Jersey State Museum through the Lucille M. Paris Fund.
IMAGE CREDIT: Charles Ward (1900-62)
Study for Mural 1934 - Oil on Board
NJ State Museum Collection
Gift of the Friends of the New Jersey State Museum
FA1999.3