Winter Art Studio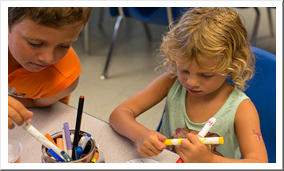 Drop by and participate in our free daily art projects! Each day we're offering a different project, inspired by a work from the collection. All ages are welcome to participate.
December 26 - Recycled Sculptures: View "Adan" by Debra Butterfield, then create your own sculpture from recycled materials.
December 27 - Printmaking: Let "Jacqueline Kennedy II" by Andy Warhol be your inspiration as you create your own block print. 609-695-6274 ext. 132.
December 28 - Explore texture with paint: View "Soot-Camp" by James Little and "Cobalt Twirl" by Sam Gilliam, then explore new ways of creating texture for abstract painting by mixing different materials into the paint.
December 29 - Earthworks: Learn about earthworks such as "Spiral Jetty" by Robert Smithson, "Sun Tunnels" by Nancy Holt, and more. Then create your own miniature earthwork in the Imagination Studio and photograph it.