Reference and Reproduction Services
The State Archives' public research rooms are open for business Monday-Friday (except for state holidays), 8:30am-4:30 p.m. The retrieval and use of manuscripts and other original records will only be possible from 1:00 p.m.-4:15 p.m. The reduction of public hours for manuscript research has become necessary due to a shortage of staff. We sincerely regret any resulting inconvenience. The building is fully handicapped-accessible, but designated parking behind 225 West State Street is limited. There is also limited parking available in the State House Garage and on West State Street (metered).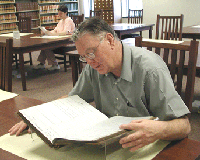 Eating, drinking and smoking are prohibited in the Archives' public areas (including the reception area). The following are not permitted in the State Archives' public research rooms: pens; briefcases, purses & waist pouches; portfolio cases & research file bins; zip notebooks; coats and umbrellas; luggage, bookbags and computer bags; strollers and diaper bags. Cellular phones/pagers must be set to vibrate mode (please take or make calls in the reception area). Secure lockers are provided for storage of personal items, the receptionist will provide locker keys.
Consult the Guide to Reproduction and Research Services, Policies and Fees [PDF] for information on the statutory basis of our fees.
Mail Reference
Researchers can also obtain copies of documents through the mail from certain indexed collections. See Mail Reference Fees regarding collections that can be searched by mail. Search and copy fees must be paid in advance. The Archives will provide the best photocopy available.  We cannot guarantee image quality (due to the condition of the originals and the fact that most copying must be done from microfilm), and we cannot refund photocopy and search fees.
Microfilm for Sale
The State Archives makes some of its records available for sale on microfilm. Duplicates will be produced on positive vesicular film. Silver duplicates are available for an additional charge. Microfilm for sale includes some family history resources, revolutionary war documents, records of industry and labor, newspapers, morris canal records and more.
Reproduction Services
The State Archives also offers photographic and alternate reprographic services.  Whether you see an image online or documents at our facility, we can provide you with a digital image and/or archival reproduction for a fee. Consult the Photographic Reproduction Fees [PDF] for further information.