Electricity Generation
New Jersey is a leader among the states in reducing emissions from the electric power sector, and our 2011 Energy Master Plan reflects New Jersey's continued leadership in this area.
From 2001 to 2012 New Jersey achieved a 33% reduction in CO2 emissions from the fossil fuel sector, while decreasing our reliance on coal by more than 80%. During that same period, New Jersey invested an estimated $3.27 billion in renewables and energy efficiency measures.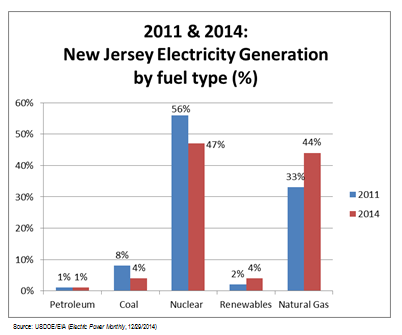 New Jersey's in-state electricity generation is among the cleanest in the nation, with almost 50% of in-state generation coming from nuclear, as shown in the figure above. New Jersey's existing fossil fuel generation sector is already well below USEPA's proposed limits for new fossil power plants, which requires an emission rate of 1,000 lbs CO2/MWh for natural gas fired facilities and 1,100 lbs CO2/MWh for coal fired facilities. New Jersey's existing natural gas combined cycle generation units emit 973 lbs/CO2 per MWh. New Jersey's existing "affected units," as defined under USEPA's proposed Clean Power Plan rule (coal and natural gas units >25 MW), emit 1,035 lbs CO2/MWh.
In addition, New Jersey's Renewable Portfolio Standard (RPS) is one of the most aggressive in the U.S. The RPS requires each electricity supplier serving retail electricity customers in the State to procure 22.5% of the electricity it sells in New Jersey from qualified renewable energy resources by 2021 see footnote. New Jersey established the RPS to drive the market deployment of new clean energy technologies, recognizing that expansion of renewable energy generation would provide significant economic development and environmental benefits, thereby advancing New Jersey's air quality and greenhouse gas reduction goals. NJ has also become one of the top states in installed solar capacity. For more information see the New Jersey Solar Installation Update: http://www.njcleanenergy.com/renewable-energy/project-activity-reports/installation-summary-by-technology/solar-installation-projects.
To further enhance solar development in NJ, DEP staff is currently working with New Jersey Board of Public Utilities (NJBPU) Office of Clean Energy staff to implement the Solar Act (P.L.2012, c. 24) that was signed into law by Governor Chris Christie on July 23, 2012, which promotes a policy of avoiding siting of solar facilities on open space and farmland. Subsection t of the law directs BPU to work with DEP to create a certification program for brownfields, properly closed sanitary landfill facilities, and areas of historic fill. Once certified, these sites are deemed "connected to the distribution system" for the purposes of SREC eligibility. New Jersey currently ranks third in the nation in total installed solar capacity and second in the nation for net-metered capacity. New Jersey favors net-metered capacity over the large, grid connected projects that comprise a significant portion of solar development and encompass vast land area in the other two states. Renewable energy sources such as solar, wind and geothermal reduce reliance on fossil fuels that contribute to climate change.
New Jersey's Emissions Profiles
New Jersey enjoys some of the lowest emission rates from power plants in the country, as depicted in the following charts. According to the EIA, New Jersey is ranked 47th lowest in sulfur dioxide (SO2) emissions, 47th lowest in nitrogen oxide emissions and 46th lowest in carbon dioxide emissions from in-state electric generation units. In comparison to the 13-state PJM regional transmission region, New Jersey ranks, by far, the lowest of all. And looking just at the fossil-fuel sector, New Jersey's existing electric generation fleet already surpasses the CO2 standards that EPA has proposed for new fossil electric generators. These low levels of emissions are especially impressive given that New Jersey is the 22nd largest generator of electricity in the nation. Note: the source of data for the following six charts is USDOE/EIA. Vermont has been excluded.