Conserving forest land and other open space plays a role in addressing carbon pollution by removing (i.e., sequestering) a portion of total greenhouse gas emissions. Terrestrial carbon sequestration is the technical term used to describe the earth's natural ability to capture and store carbon dioxide in vegetation and soils, where it remains isolated from the atmosphere. In New Jersey, terrestrial carbon sequestration is primarily due to the state's forests and wetlands, which, at 3 million acres, comprise a substantial share of the state's land area. Grasslands and croplands also have carbon sequestration potential, mostly in soils.
New Jersey's forests and preserved open space are an important component in meeting the goals of the NJ Global Warming Response Act. According to the "2008-2012 New Jersey Statewide Comprehensive Outdoor Recreation Plan (November 2007)", New Jersey had 1,242,664 acres of preserved public open space. State Parks and Forest land totaled 422,996 acres. State Wildlife Management Areas totaled 319,947 acres. And, together with public and private partners, the NJ Green Acres Program has protected almost 640,000 acres of open space and provided hundreds of outdoor recreational facilities in communities around the State.
The importance of maintaining and enhancing New Jersey's natural capacity to sequester carbon is emphasized in the Global Warming Response Act Recommendation Report, which contains recommendations designed to protect and increase terrestrial sequestration in New Jersey. These include the strategic land management of the state-owned and state-administered state parks, forests and wildlife management areas to retain and improve carbon storage.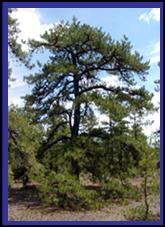 New Jersey needs to continue to generate data on sequestration capabilities of New Jersey's state lands through improved monitoring and measurement. DEP supported a Rutgers University study (completed in 2010) to more accurately quantify the capacity of New Jersey forests to sequester carbon. Updated biomass carbon density factors derived from that study have since been used to estimate forest sequestration in the bi-annual New Jersey Greenhouse Gas Inventory.
New Jersey participated in the Midwest Regional Carbon Sequestration Partnership (MRCSP) and with its support carried out a project to assess New Jersey's enhanced terrestrial sequestration potential, including an empirical study of the forested wetlands of the state (completed in 2011). The report is available on the MRCSP website.
The overall MRCSP effort confirmed terrestrial sequestration as a valuable resource for the region it encompasses (MRCSP member states are: Indiana, Kentucky, Maryland, Michigan, New Jersey, New York, Ohio, Pennsylvania and West Virginia). The MRCSP region has the biophysical potential to sequester approximately 15% of the region's annual carbon dioxide emissions from large point sources for a period of time, if deployed at full-scale. The assessment for New Jersey indicates a minimum enhanced potential of between 17 to 34% of its current gross annual sequestration.
Active research and development is being carried out here and elsewhere. Specific aspects of this work may have relevance for New Jersey. These include:
Restore America's Estuaries (RAE) currently leads a technical working group that will develop requirements for quantifying and crediting the greenhouse gas benefits of several new types of wetlands conservation projects under the Verified Carbon Standard (VCS) program. VCS is a global standards program that has been used to develop a multitude of GHG-reducing projects and millions of GHG credits validated and verified to recognized global criteria. GHG auditing for wetlands projects has the potential of stimulating expanded wetland restoration and protection efforts in the almost 1 million acres of wetlands in the state, more importantly the tidal marshes and forested wetlands (~500, 000 acres) which have high carbon sequestration rates. The marshes and coastal wetlands are deep reservoirs of what is now termed "blue carbon."


Research at the Meadowlands Research Institute (MERI) of the NJ Meadowlands Commission has ongoing work on carbon sequestration in urban wetlands. The results show that even if degraded, these lands are able to capture and store carbon pollutants. Measurements made since 2009 indicate that carbon is being captured at the rate of almost one ton per acre per year. The research also confirmed the long residence time of carbon storage in wetlands soils. Core soil sampling data show that 50% of the CO2 captured by the wetlands remains sequestered after 1,700 years.


The state hosts a federal research unit scientifically monitoring carbon exchange. A U.S. Forest Service experimental forest (500 acres) in the Brendan Byrne State Forest is part of FLUXNET – a global network of observing stations to monitor total change of carbon dioxide in the atmosphere (interacting with vegetation and soils). Data from this network (FLUXNET) has been used by a recent global study which estimated that the world's forests absorb 2.4 billion metric tons of carbon dioxide or about 1/3 of the carbon dioxide released through the burning of fossil fuels and thereby re-affirming that forests are carbon sinks. (Pan, Y., et al. 2011. A large and persistent carbon sink in the world's forests. Sciencexpress, July 14, 2011.doi:10:1126/science.1201609). The experimental forest station also conducts research to reduce the risk of wildfire in the state (a key research area since forest fires could cause substantial carbon dioxide emissions per acre).