It's tough finding time to escape the demands of both a family and a full-time job and pursue my favorite pastime ..... fishing. Given my interest in fishing, and my profession as a state fisheries biologist, you shouldn't be surprised to learn that this has rubbed off on my daughters in no small way. Naturally they learned to fish at a very early age and my oldest daughter, Laura, age nine, already has a career mapped out as a shark biologist! Several years ago I began taking my daughters fishing for trout, which I have found takes just a bit more planning than a trip to a local lake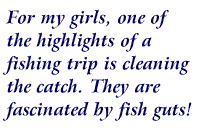 to fish for sunnies. If there's one thing I've learned, it's that proper planning can make or break an outing, especially when small children are involved. And when we go as a family it's a foregone conclusion that the fishing will revolve around them and their needs, not mine.
So what do I do in advance to ensure a successful outing? For starters I check the Division's Fish and Wildlife Digest, available at most tackle stores, for the list of trout-stocked waters, and zoom in on those near my home. Up until now I've avoided going to streams mainly because I'd be a nervous wreck trying to keep tabs on three young children, especially Katie, my rambunctious four year old. And it's just harder to fish flowing water. Frequent casting and snagging the bottom and overhanging trees quickly tires and frustrates a child. That's why I prefer lakes and ponds for my family.
In the spring, most lakes and ponds are stocked before the opening day of the trout season, and three to four times after opening day. Target these waters soon after stocking to maximize your chances of catching trout. You can find out the stocking dates in advance by calling the Trout Hotline at (609) 633-6765. Trout like cold water temperatures so it's best to go in April or May, before the water heats up. Fish seem to feed more actively in the morning or evening so that's usually when we go. If the day we pick to go fishing turns out to be lousy, weather-wise, we'll go another time.
Proper gear is a must. Each of my daughters has their own fishing pole - a spin-casting rod and reel combo. This setup is the easiest for them to manage. It never hurts to take along a spare or two because sharing a pole doesn't go over too well and its a hassle to fix anything beyond the most minor of problems. Before we depart, I try to make sure that there's sufficient line on the reel so it casts smoothly and that they're rigged and ready to use. Our tackle box is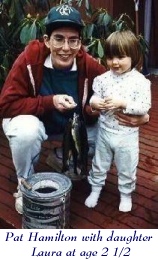 stocked with all sizes and shapes of bobbers, bait hooks (size #8), split shot, a pair of needle-nosed pliers and a knife.
We fish with bait so that my girls (or I) don't have to cast as frequently as with lures. I dig up or buy worms (preferably night crawlers because they're bigger than redworms) and may also buy fathead minnows for a little variety. The standard "rig" we use is a bobber attached to the line about 1 to 2 feet away from the hook. I shy away from split shot unless needed to weight down a minnow. An inexpensive net is handy, (not so much to net the fish as a distraction for kids when boredom starts to set in).
A 5 gallon white plastic pail comes along, too. Live trout can be held in a bucket for a little while to allow kids to observe and touch. This is the part that my kids really enjoy. Because trout don't have spiny rays like sunnies, perch, and catfish, they are gentle on the hands. But if we plan to release the trout, it goes back in the lake after a few minutes. If we're keeping the trout, we add fresh water from time to time to keep them alive until we leave. Other essentials include snacks and a bag for trash.
My oldest daughter, Laura, is fairly self-sufficient, though sometimes I will bait the hook. To do this I usually break a night crawler in two with my hands and just use half. Sarah, almost seven, is very observant and likes to do things for herself. She enjoys hunting for worms in the bait container. My father swears that when she was four years old he stopped her just in time from biting a worm in half. Guess my technique didn't suit her! Katie pretty much needs constant attention and intervention. She starts reeling in as soon as I hand the rod over to her.
If I can swing it, I try to fish with my own rod, which becomes the "neutral" rod. No child has claim over it and if a fish starts to bite it can be turned over to the child of my choice (particularly handy if one child hasn't had a bite or caught a fish, while the other two have). We'll fish as long as we can, which really depends on whether the fish are biting or if my children find other distractions to keep them entertained.
For my girls one of the highlights of a fishing trip is cleaning the catch. They are fascinated by fish guts! "What was that fish eating?" "Where's the heart?" "Are those eggs?" Fortunately these are questions I can answer!
On opening day we tried Spooky Brook Park Lake, one of the eight waters that were added to the spring stocking schedule this year. It's just a stone's throw away from our home which means we spent most of our time fishing instead of traveling. We had a terrific time with enough success to make everyone happy. Later this season I just might be tempted to try stream fishing…if I can persuade my husband to come along!