The fish pathology laboratory is located at the Pequest Trout Hatchery outside Oxford, NJ, and close to the Hackettstown Hatchery. The laboratory is equipped to perform fish necropsies, general microbiology, parasitology, and histopathology.

For disease diagnostics staff works with the NJ Animal Health Diagnostic Laboratory (NJ AHDL). The AHDL is a state-of-the-art facility equipped with molecular biology suites, a virology laboratory with cell culture facilities maintaining fish cell lines, and modern bacterial diagnostic equipment. The AHDL also provides diagnostic services in fish health for private fish hatcheries.

Collaboration with universities and other institutions and agencies is an important component of successful scientific research. This collaboration allows for the utilization of state and university resources to learn more about fish health within the state, while also providing opportunities for students to be involved in research.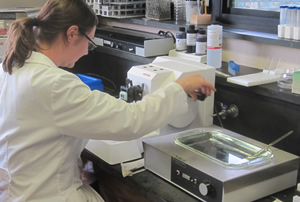 Preparing histology sections of fish organs on a microtome. The 4 Ám thick tissue sections are mounted onto glass slides, stained, and screened for diseases using a microscope.
Click to enlarge