| | |
| --- | --- |
| New Jersey Division of Fish and Wildlife | |
January 22, 2001
Preliminary Harvest Estimates for 2000 Six-Day Firearm "Buck" Season
For more information contact:
Al Ivany, NJ Division of Fish & Wildlife, 908-637-4125

Preliminary harvest estimates were developed for the 2000 six-day firearm or "buck" season. A total of 13,252 antlered deer were harvested during the six-day season. This year's harvest represents a 22.2 percent increase over the 1999 total of 10,848 deer. The average six-day firearm season total for the past five years was 11,558 deer.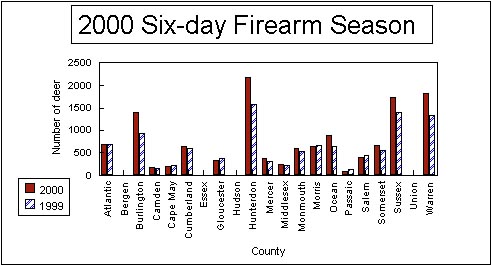 Firearm hunters throughout the state shared in the excellent results, with all but five major counties registering increased harvests over last year. County totals revealed that Hunterdon County (2,179 deer) ranked number one in terms of antlered deer harvested, followed by Warren (1,824), Sussex (1,730), and Burlington (1,422) counties. The six-day harvest declined in Cape May (down 7%), Gloucester (down 9%), Morris (down 3%), Passaic (down 28%) and Salem Counties (down 13%). Reductions in all but Cape May county can be attributed to the Quality Deer Management program, which limited the antlered harvest to bucks with at least three points on one antler. The reduction in Cape May County is believed to be a result of a decreased deer population in that area. For the past several years the Division has endeavored to reduce deer numbers in the county at the request of the agricultural community.

The exceptional results of this year's season are attributable to several factors including higher survival of adult males in earn-a-buck zones and excellent hunting conditions on the opening day and throughout the six-day season. Last year, nearly one-third fewer bucks were taken during all six deer seasons in earn-a-buck zones. Those bucks were one year older this year and have been available to bow, shotgun and muzzleloader deer hunters. The 2000 six-day firearm harvest increased 22 percent statewide or 2,404 antlered bucks. A majority of the increased harvest took place in earn-a-buck zones, with 1,517 additional bucks taken or a 31 percent increase over last year. Although earn-a-buck has been unpopular with some sportsmen the benefits of the program are already evident. The program has proven to be effective by allowing more bucks to survive to older age classes while increasing antlerless deer harvests. All deer hunters have benefited from more and bigger bucks, while the agricultural community has benefited by reduced numbers of deer and associated damage.

The traditional six-day firearm buck season is primarily a recreational season, however it also represents about 15 percent of the annual reduction in New Jersey's deer population. The recreational, economic and traditional values of the season are of great importance to New Jersey sportsmen and women who generally enjoy approximately 320,000 hunter-days of recreation during the entire six-day season. During all six deer seasons hunters spend over $100 million as they enjoy in excess of 1.4 million recreation days hunting deer.

The tradition of buck hunting dates back to the first "bucks-only" season in the year 1909. In 1909 an estimated 62,000 deer hunters harvested a total of 86 antlered bucks. The tradition of this season includes taking only antlered bucks. The other five deer seasons in New Jersey provide for the taking of female deer and play a bigger role in controlling or reducing deer populations. This year's regulations provide for taking antlerless deer during all 124 days of deer hunting in areas with high deer populations and where deer populations are targeted for rapid reductions. For example, permit muzzleloader and permit shotgun hunters were authorized to take antlerless deer throughout the six-day firearm season in over half of the State. Estimates of the number of deer taken during the permit shotgun, permit muzzleloader and permit bow seasons will be available in late January.

Preliminary Harvest Estimate for the Entire Season by County
County
Preliminary
2000 harvest
1999
Harvest
Atlantic
708
691
Bergen
9
8
Burlington
1,422
928
Camden
176
152
Cape May
204
220
Cumberland
663
611
Essex
10
12
Gloucester
333
367
Hudson
0
0
Hunterdon
2,179
1,578
Mercer
381
304
Middlesex
248
222
Monmouth
622
518
Morris
663
680
Ocean
901
650
Passaic
99
137
Salem
391
448
Somerset
689
547
Sussex
1,730
1,415
Union
0
4
Warren
1,824
1,356
Total
13,252
10,848
Preliminary Harvest Estimate for the Entire Season by Zone
Deer
Management
Zone
Preliminary
2000
Harvest
1999
Harvest
1
302
238
2
679
540
3
142
208
4
263
218
5
1,334
1,037
6
187
293
7
575
393
8
1,221
906
9
143
183
10
810
545
11
399
313
12
772
535
13
164
146
14
388
326
15
276
209
16
316
257
17
231
181
18
209
167
19
319
313
21
455
257
22
110
98
23
467
256
24
244
141
25
241
213
26
422
371
27
112
195
28
226
162
29
113
137
30
118
73
31
71
55

33

27
55
34
240
277
35
187
232
36
35
25
37
22
9
38
no season
no season
39
45
32
40
no season
no season
41
255
189

42

33
30
43
104
116
45
130
136
46
158
144
47
61
51
48
204
168
49
26
22
50
166
175
51
82
54
52
19
8
53
8
5
54
12
16
55
25
23
56
no season
no season
57
no season
no season
58
no season
no season
59
no season
no season
60
no season
no season
61
0
2
63
32
41
64
no season
no season
65
72
72
66
no season
no season
67
no season
no season
Total
13,252
10,848