| | |
| --- | --- |
| New Jersey Division of Fish and Wildlife | |
May 9, 2002
NEW STATE RECORD LAKE TROUT
For more information contact:
Al Ivany at 609-984-1795

According to the New Jersey Department of Environmental Protection's Division of Fish and Wildlife, a new state record lake trout was taken from Round Valley Reservoir in Hunterdon County on May 4. Gregory Young of Whitehouse Station caught a 32 pound, 8 ounce lake trout that weighed 6 pounds, 8 ounces more than the previous record taken from Round Valley in 2001.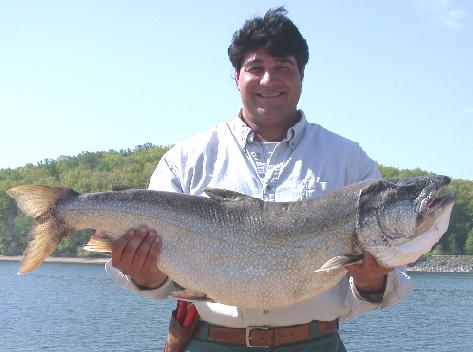 Young was trolling from his boat when he landed the trout on 17-pound test line with a 10-pound leader. The fish, which took an hour to bring in, measured 41½ inches in length with a 25½-inch girth. It was caught in the cove near the Division of Fish and Wildlife's boat ramp. Division Principal Fisheries Biologist Bob Papson verified the identification of the fish.
The lake trout is one of four trout species found in New Jersey. This fish is characterized by red or pale spots over the body much like a brook trout. However, unlike the brook trout, lake trout have a deeply forked tail. The species prefers deep-water lakes in spring and summer, and moves to shallow water in fall and winter.
Lakers were first introduced into the State in 1977 when the Division of Fish and Wildlife stocked them in Round Valley Reservoir. The lake trout quickly took to Round Valley and they began to spawn in the lake soon after being introduced. As early as 1985, young lake trout without clipped fins that identify stocked fish, began to appear as proof that natural reproduction was occurring in the reservoir.
The only other water body that is deep and large enough to support lake trout in New Jersey is the Merrill Creek Reservoir in Warren County. Lake trout were also stocked here in the 1980s soon after the reservoir was built. Merrill Creek has been yielding legal sized lakers for quite a number of years now and has proven to be another permanent home for lake trout in New Jersey. The Division annually rears and stocks lake trout to supplement the populations in Merrill Creek and to a lesser extent, Round Valley.
The Record Fish Program honors the largest species of fish caught in the State. It revolves around a specific list of eligible freshwater and saltwater species, and is based on weight alone (there are no line classes). Scale certification documentation and a weighmaster's signature are necessary. Other rules apply. For more information or to request an application, call 609-633-7768. Visit the Division's website at www.njfishandwildlife.com for a complete list of state record fish.