April 18, 2019
Updated July 31, 2019

NOTE: This is an update of January 22, 2019 American Woodcock Migration Study information; the July 31 update consists of the posting of the study report below:

American Woodcock Migration Study Report, June 17, 2019 (pdf, 5.3mb)

During 2018-19, Fish and Wildlife worked cooperatively with several universities and state, federal, and non-governmental agencies on a study using GPS telemetry units to better understand American woodcock ecology and migration. Study objectives are to:
Assess rate and path of migration during fall and spring;

Compare migration strategies between northern and southern breeding populations of woodcock;

Analyze landscape patterns affecting migratory stopover during migrations;

Evaluate survival of GPS-marked woodcock during migration and relate to observed patterns in mortality associated with regional variation or landscape-scale factors;

Combine telemetry data with other datasets to develop a full life cycle population model for American woodcock.
During December, 2018, Division staff and cooperators captured and put small radio-tags on 15 woodcock (8 females and 7 males) on the lower Cape May peninsula. These small transmitters send periodic locations via satellites that allow biologists to track their movements without having to recapture them. Woodcock were captured at night with long-handled dip nets by "freezing" them on the ground using high-powered spotlights in mowed strips of fields where the birds roost at night.
Two NJ woodcock were recovered thus far. One was shot during the hunting season in Cape May and another found dead in January in Cape May, presumably the victim of a vehicle collision. NJ woodcock wintered in Cape May County, eastern North Carolina, and the eastern regions of Maryland and Virginia.
As of April, 12 transmitters remain active. During spring migration, woodcock made long distance movements to Nova Scotia, Cape Cod, and Downeast Maine. Additionally, one New Jersey marked bird has migrated to Ontario, just north of Lake Ontario, while other birds have moved to upstate New York and Vermont.
The Nature Conservancy, Cape May National Wildlife Refuge, and New Jersey Audubon played key cooperator roles by preparing (mowing) sites for capture in roost fields, allowing access to land, or by lending capture equipment.
Additional information, including maps showing movements of all telemetry marked birds, can be found at www.woodcockmigration.org.
A key partner to this study, the Ruffed Grouse Society has initiated a funding campaign for the Eastern Woodcock Migratory Research Cooperative Project. Those interested in supporting funding should visit www.woodcockmigration.org/support.html.
Click images to enlarge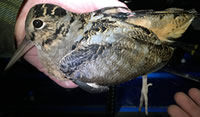 Woodcock with telemetry device.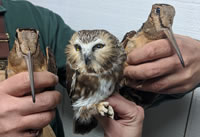 Bonus saw-whet owl (center) captured and banded by NJ Audubon cooperators on same night/site where several woodcock were instrumented.