April 3, 2020
Updated May 27, 2020

Consistent with Governor Murphy's latest Executive Orders regarding social distancing in order to limit the spread of Coronavirus (COVID-19), "non-family/household member" fishing is permitted in groups of fewer than 25 persons provided six-foot social distancing is maintained and the recommended infection control procedures (face coverings, hand washing) are followed.

To disperse the fish and to help maintain social distancing among anglers, trout were released early and the NJ Fish and Game Council opened trout stocked waters for catch and release only for trout, from April 1 through April 10. Season, size, and creel limits for all other species apply, as well as any gear restrictions.

Anglers MUST NOT congregate in parking areas, boat ramps or at popular fishing locations. Conservation Police Officers, New Jersey State Park Police, and DEP staff are actively monitoring our parks and natural areas to ensure that individuals enjoying our natural resources are maintaining social distance. Any groups encountered will be instructed to disperse to maintain social distance, and if they do not comply, tickets will be issued by law enforcement.
COVID-19 FISHING GUIDELINES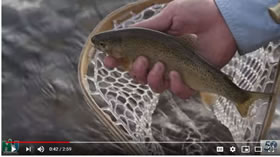 Watch the video