| | | |
| --- | --- | --- |
| | Vessel Deployments at Little Egg and Manasquan Inlet Reefs | |
January 19, 2021
Video - Little Egg Reef Tug Deployment
On January 14, 2021, Bureau of Marine Fisheries staff expanded New Jersey's reef network through a deployment of four new items off New Jersey's coast as a part of the Artificial Reef Program. A 200-foot-long barge, along with a 45-foot tugboat and 40-foot push boat, were deployed at the Little Egg Reef site. These three deployments bring the total number of deployments at that reef to 79. They are located at the following coordinates:
39° 28.340 x 074° 11.083

The Little Egg Reef deployments were sponsored by the Beach Haven Charter Boat Association's Junior Mate Program with donations by The Sportfishing Fund.
A 65-foot tugboat was sunk at the Manasquan Inlet Reef. This vessel represents the 5th deployment on the Manasquan Inlet Reef and is located at the following coordinates:
40° 04.784 x 073° 59.420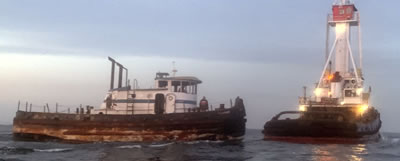 Artificial reef deployments become home to more than 150 marine organisms including black sea bass, tautog, summer flounder, lobsters, crabs, and mussels. They will surely also become prime destinations for SCUBA divers and fishermen alike.
For more information, please visit the Artificial Reef Program page or contact NJ Reef Program Coordinator Peter Clarke at 609-748-2020.