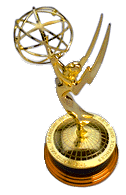 Black Bear Documentary Receives Emmy
October 8, 1997

For more information contact:
Al Ivany at 908-637-4125
The New Jersey Department of Environmental Protection's (DEP) Division of Fish, Game and Wildlife and New Jersey Network (NJN) have received an Emmy from the National Academy of Television Arts and Sciences for the documentary "Bear Country, New Jersey." In a ceremony at the Marriott Hotel in Philadelphia, the film, produced cooperatively between the division and NJN, took honors in the Outstanding Health and Science Program category. Approximately 500 people representing television stations throughout the Mid-Atlantic region were in attendance.
"We are extremely proud of this production, and the people who participated in making it. It stands as a reflection of the division's commitment to educating New Jerseyans on the needs and issues surrounding wildlife today," said DEP Commissioner Bob Shinn.
The film explains the natural and historic perspective of the black bear in New Jersey and follows division biologists through their yearly cycle of black bear research. Interviews with residents living in bear habitat give local viewpoints and highlight the complexities of wildlife management in such an urbanized state. It was filmed entirely in New Jersey by NJN production staff with technical consultation provided by division personnel.
Approximately 200 copies of the film were distributed to schools and environmental education centers throughout the state, as well as state fish and wildlife agencies. It has been broadcast on PBS affiliates around the country, as well as in Canada and Germany.
As a result of the film's success, the division has committed to working with NJN in the production of two more documentaries focusing on white-tailed deer and striped bass. These productions will be very similar to the successful New Jersey Outdoors series that premiered on NJN in the late 1970s.
---