Press Release
For More Information Contact the NJHCFFA
Communications Department:
609-292-8585 X142
For Release: November 10, 2009
MARK E. HOPKINS
EXECUTIVE DIRECTOR

CONTACT: Stephanie Zschunke
PHONE: 609-292-8585
Date: November 10, 2009
NJHCFFA ISSUES NEARLY $40 MILLION ON BEHALF OF CHILTON MEMORIAL HOSPITAL
(Trenton) On November 12, 2008, the New Jersey Health Care Facilities Financing Authority (the "Authority") successfully closed on $39,195,000 in bonds on behalf of Forrest S. Chilton, 3rd Memorial Hospital ("Chilton"). Proceeds of the bonds will be used to: renovate and expand the Comprehensive Breast Center, the cardiac catheterization lab and nursing units; relocate and renovate surgical facilities and patient areas; and, purchase various pieces of equipment to be used throughout Chilton's facilities. Proceeds will also be used to refund all of the Authority's outstanding 1993 revenue bonds issued on Chilton's behalf (in the amount of $12.5 million) and to refinance a commercial bank loan (in the approximate amount of $10.9 million) which originally funded the construction of an MRI addition.
The issue was structured as a fixed rate financing with serials ranging from 2012 through 2020 and three term bonds in 2024, 2029 and 2039. The bonds were sold on the basis of the Chilton's credit rating of "Baa1" by Moody's and "BBB+" by Standard & Poor's and received an all-in true interest cost of 5.96%.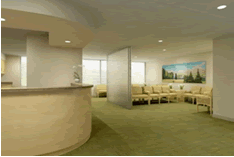 Inset is a rendering of the expanded and renovated Comprehensive Breast Center. According to Chilton, the Center will expand in size by 20% and will feature warm and welcoming spaces. Enhancements will include a larger waiting room with a private registration area, a separate waiting room for women who need additional testing and a third digital mammography machine.
Forrest S. Chilton, 3rd Memorial Hospital, Inc. is a not-for-profit acute care community hospital located in Pompton Plains, New Jersey. With 256 licensed-beds (plus four intermediate neonatal bassinets), Chilton provides general and specialized acute care inpatient and outpatient services to residents from more than 33 communities in Morris, Passaic, Sussex, Bergen and Essex counties. Specialized diagnostic and treatment services offered include: a full range of radiology services including PET/CT imaging and a 64-Slice CT Scanner; robot-assisted surgery performed with the da Vinci Si HD Surgical System; oncology services provided through both a Cancer Center and a Comprehensive Breast Center; a newly renovated Emergency Department with a separate pediatric emergency room; stroke care services; a Sleep Health Institute; a Wound Healing Center; and, a Family Care Center.
Created in 1972 by an act of the Legislature to provide not-for-profit health care providers with access to low-cost capital, the Authority is the primary issuer of municipal bonds for New Jersey's health care organizations. During its 35+ year history, the Authority has issued over$16 billion in bonds on behalf of over 150 health care organizations throughout the state.
###