Emergency Management Section
Hazardous Materials Response Unit
---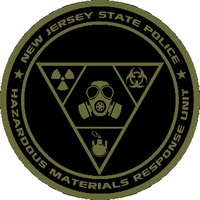 HMRU Mission Statement
The Hazardous Materials Response Unit (HMRU) has a multi-function mission in the response, force protection, and support in the State Police role as a law enforcement, interdiction, and prevention agency. HMRU provides response and planning support for chemical, biological, radiological, nuclear, and explosive incidents to include, agent surveillance, detection, evidence collection, sampling and identification of Hazardous Materials/CBRNE materials. HMRU can also provide direct support in decontamination, environmental monitoring, scene management, and resource acquisition.
NJSP HMRU provides round the clock response capabilities to hazardous materials, clandestine laboratories, and CBRNE incidents throughout NJ. Its mission is to assist local, other state and federal agencies in determining the extent of the incident and when necessary, document, collect, and analyze any material(s) or hazardous evidence.
NJSP HMRU is highly mobile and carries state of the art diagnostic and field analytical testing equipment with reach back capability. This reach back capability allows for the information and findings in the field to be transmitted and viewed by specialists in a specific field.
HMRU also is tasked to provide CBRNE / HazMat training to include: CBRNE / HazMat First Responder Awareness, Operations and Technician level training programs, as well as, custom designed responder training programs.
---