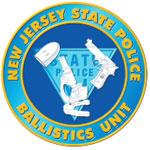 (609) 584-5051 ext 5815
The Ballistics Unit is an integral part of the New Jersey State Police, Special Investigations Section, Major Crime Bureau, which is entrusted with the responsibility of providing an array of forensic laboratory examinations of firearm related evidence submitted by law enforcement agencies throughout the State of New Jersey and at no cost to the contributor.
The Ballistics Unit is responsible for numerous types of duties and examinations including, but not limited to; conducting detailed microscopic comparisons of discharged cartridge casings and discharged bullets in relationship to a submitted firearm, conducts distance determinations upon request, examines and test fires firearms and conducts serial number restorations on all defaced firearms. Compiles and enters data into the National Integrated Ballistic Information Network (NIBIN), a discharged cartridge case computerized imaging system. Ensures all evidence received is properly secured throughout submission and examination. Upon evidence submission, evidence will be assessed to determine if suitable for the Crime Gun Protocol. Provides expert testimony in municipal, county, state, and federal courts. In addition, provides ballistic informational support, training, and lectures to state police schools, outside police agencies, and other special groups.