Compliments / Complaints
How to commend a Trooper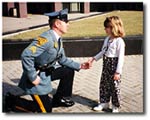 Recognition for a job well done is important
Troopers and civilian employees of the Division are no exception.
If a trooper or other member of the Division renders a service that you feel is worthy of a commendation, we would like to hear about it.
To commend a Division employee you may:
Please include as much of the following information as you can remember:
Date, time, and location of the incident
Name(s) and badge number(s) of the member(s) involved
Circumstances of the incident
The employee and his/her supervisor will be notified of the commendation. A copy will also be included in the employee's personnel file.
---
You can call the toll free recorded hotline: 1-877-253-4125
Note: This hotline is strictly for compliments and/or complaints.
All other inquiries can be addressed by calling 609-882-2000.