Education
The Passaic Valley Sewerage Commission Announces:
A Brand-New Adventure with Messy Marvin And Pollution Prevention Penny!

In a FREE two-part program, students will learn about the Passaic River, the wildlife around the river and what they can do to help keep our river clean.

Each program is specifically tailored to students' learning abilities and includes an assembly-style program, outdoor adventure or volunteer stream cleanup.
K through 2nd Grade: Litter, The River and YOU!
Students will learn about the Passaic River and Newark Bay and discover many fascinating facts about water. Through a multi-media journey, students will learn the small steps they can take in school and at home to make a big difference in protecting the environment!
3rd Grade through 5th Grade: The Passaic River- Constantly Changing
Students are introduced to the PVSC River Restoration Program while discovering the water cycle and how non-point source pollution finds its way into our waterways. Students also discover how they can take action by participating with their classmates in a PVSC-Sponsored Cleanup.
6th Grade through 8th Grade: Preserving and Protecting the Passaic River
The word "preserve" means to keep safe for the future. This program introduces students to a trash timeline, discovering how long the litter in our streams will stay there if it is left in them- illustrating to students the crucial role they play as the first line of defense in protecting the Passaic River through prevention and volunteering along the river's shorelines.
High School: History and Science- Understanding the Passaic River and Newark Bay
Discover the diverse industrial history of the Passaic River and Newark Bay and what makes them urban waterways. Students learn about the historical role of the PVSC Wastewater Treatment Facility and how the PVSC's Mission to Protect the Lower Passaic River and its tributaries has grown to include the River Restoration Crew and most importantly, volunteers.
To book your FREE Educational Outreach Program, contact:
Passaic Valley Sewerage Commission
c/o Donna Piscopo
Phone: 973-466-2908
Fax: 973-344-7114
education@pvsc.com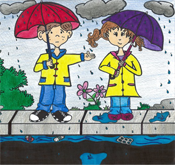 More Information
Book your FREE Educational Outreach Program
Passaic Valley Sewerage Commission
c/o Donna Piscopo
Phone: 973-466-2908
Fax: 973-344-7114